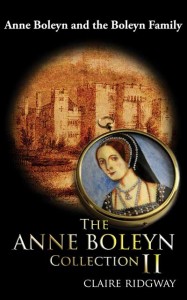 Just a quick post to let you know that both the paperback and kindle versions of my latest book The Anne Boleyn Collection II are now available on Amazon – yay!
Here are all the details…
Paperback: 354 pages
Publisher: MadeGlobal Publishing/CreateSpace Independent Publishing Platform (September 21, 2013)
Language: English
ISBN-10: 1492778958
ISBN-13: 978-1492778950
Kindle ASIN:B00FEI44E6
RRP: Paperback $15.99/£9.99, Kindle $2.99/£1.99
Links: Paperback – Amazon.com and Amazon UK.
Kindle – Amazon.com and Amazon UK.
It will also be available on the other Amazon international sites (search by ISBN or ASIN (for Kindle) numbers).
Queen Anne Boleyn and her family have gone down in history as ambitious social climbers who stopped at nothing to gain the King's favour, and who paid the ultimate price. But the real Boleyns were very different. In this collection of articles, best-selling author and creator of The Anne Boleyn Files website, Claire Ridgway, banishes the myths and introduces the real Boleyns. Written in Claire's easy-going style, but with an emphasis on good history and sound research, these articles are perfect reading for Tudor history lovers everywhere.
Topics include:
The origins of the Boleyn family
Anne Boleyn's date of birth
Did Anne Boleyn serve Margaret of Austria and Queen Claude of France?
Anne Boleyn's love life
Anne Boleyn and James Butler
Anne Boleyn and the accusation of witchcraft
Anne Boleyn's pregnancies and miscarriages
Pregnancy and childbirth in Tudor times
Anne and Elizabeth
Anne Boleyn and the Tower of London
Thomas and Elizabeth Boleyn, Earl and Countess of Wiltshire
George Boleyn, Lord Rochford
Jane Boleyn, Lady Rochford
Mary Boleyn
The Boleyns and Religion
and much more…
The Anne Boleyn Collection II is fully referenced, with chapter notes and bibliography, and includes over 40 illustrations.