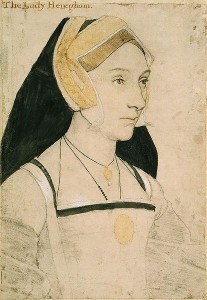 I am often asked about Anne Boleyn's ladies-in-waiting, so I thought it would be good to write a post giving the low-down on some of her ladies. I apologise if I have missed any, but here is some information on the ladies mentioned in the primary sources as serving Anne Boleyn at one time or another:-
Anne Gainsford, Lady Zouche
Anne Gainsford is thought to have joined Anne Boleyn's household before Anne married Henry, probably around 1528, and she became one of the Queen's ladies-in-waiting in 1533. She became Lady Zouche on her marriage to Sir George Zouche in 1533 and it is said that the couple had eight children.
It was Anne, or Nan as she was known, to whom Anne Boleyn lent her copy of Tyndale's "The Obedience of a Christian Men" and when her fiancé, George Zouche, stole it off her it fell into Wolsey's hands and was shown to the King. It was also Anne Zouche who told George Wyatt, Thomas Wyatt's grandson, about Thomas Wyatt stealing Anne's jewel from around her neck1. Anne Gainsford was also the lady to whom Anne Boleyn showed what Eric Ives calls a "poison-pen drawing" and what Anne Boleyn referred to as "a book of prophecy", which had been left in Anne's apartments. The drawing depicted a male figure labelled with an "H" and two female figures labelled "K" and "A". The "A" figure was missing her head. When Anne Gainsford was shown the book, it is said that she commented "If I thought it true, though he were an emperor, I would not myself marry him". Her mistress, on the other hand, dismissed it, saying "I think the book a bauble, yet for the hope I have that the realm may be happy by my issue, I am resolved to have him whatsoever might become of me."2
Anne went on to serve Jane Seymour after the fall of Anne Boleyn.
Trivia: Bess of Hardwick lived for a time with Anne Gainsford, Lady Zouche.
Elizabeth (Bess) Holland
Elizabeth Holland was the daughter of the secretary of Thomas Howard, 3rd Duke of Norfolk, and she became the Duke's mistress in 1527 when she was working as a laundress to his wife, Elizabeth Howard. When Elizabeth Howard complained to her husband about Bess being his mistress, it is said that he beat his wife savagely. Bess was the Duke's mistress for around 8 years.
The Imperial Ambassador, Eustace Chapuys, mentions Bess as the Duke's mistress and as one of Anne Boleyn's ladies in a letter dated September 1533.3
Bess went on to serve Jane Seymour and was one of the ladies in Jane's funeral procession.
Trivia: Bess gave evidence against her former lover, the Duke of Norfolk, and his son, Henry Howard, Earl of Surrey, which led to Surrey being executed and Norfolk only escaping execution because the King died before his scheduled execution.
Margery Horsman
Margery Horsman served as lady-in-waiting to Catherine of Aragon, Anne Boleyn and Jane Seymour. On page 332 of his book, Eric Ives says that the anonymous lady listed with Anne Cobham and Lady Worcester as being sources of information against Anne Boleyn in 1536 "was almost certainly Margery Horsman". After Anne's execution, Margery went on to serve Jane Seymour and in 1537 she married Sir Michael Lyster and became Keeper of the Queen's Jewels jointly with him.
Jane Parker (also known as Jane Boleyn and Lady Rochford)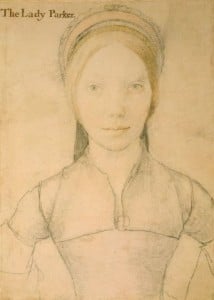 Jane was Anne Boleyn's sister-in-law, being married to Anne's brother, George Boleyn, Lord Rochford. I won't give any further details on Jane as I have written a few articles on her, see:-
Historian Julia Fox has also written an excellent biography on her.
Note: Jane is often blamed for being a factor in the downfall of her husband and Anne Boleyn as it is often said that she gave evidence against the siblings, causing them to be found guilty of incest. However, we do not know what Jane said when she was interrogated by Thomas Cromwell, apart from the fact that she spoke of Anne And George's indiscretion in discussing Henry VIII's sexual inadequacies. Julia Fox writes of how Jane has been used as a scapegoat by history.
Trivia: Jane was executed in February 1542 along with her mistress, Catherine Howard, Henry VIII's fifth wife.
Nan Cobham
The Nan Cobham who was said, by Sir John Husee, to be one of Anne Boleyn's accusers in 1536: "the Lady Worcester, and Nan Cobham and one maid more" is a bit of a mystery woman. In her pages on Tudor women4, novelist Kate Emerson writes of how the editor of The Lisle Letters, M. St Clare Byrne, points out that it is very unlikely that Husee would refer to Baroness Cobham, wife of Sir George Brooke, 9th Baron Cobham, as "Nan Cobham". So what are the possibilities?
Anne Bray, Baroness Cobham – This Anne Cobham was an attendant horsewoman at Anne Boleyn's coronation on the 1st June 1533 and was married to Thomas Wyatt's brother-in-law, Sir George Brooke. They lived at Cobham Hall in Kent and had ten children. Anne died on 1st November 1558
The Anne Cobham who served as a lady-in-waiting to Catherine Parr in 1547.
The widow Anne Cobham who was granted lands in 1540 which used to belong to Syon Abbey.
The Anne Cobham who was married to Sir Edward Borough, 2nd Baron Borough of Gainsborough, although it is thought that she died in the late 1520s.
Anne Boleyn's midwife – Retha Warnicke also states that the diminutive "Nan" "makes it unlikely that she was of high aristocratic birth"5 and Baroness Cobham was the daughter of Sir Edmund Bray(e) who became Baron Bray in 1529.
Mary Scrope, Lady Kingston
Mary Scrope was the second wife of Sir William Kingston, Constable of the Tower of London and it was also her second marriage. She was appointed to serve Anne Boleyn in May 1536 during her imprisonment in the Tower of London and Mary's job was to report back to her husband on what Anne said so that he could pass the information on to Thomas Cromwell.
Lady Anne Shelton (Anne Boleyn)
Lady Anne Shelton (née Boleyn) was the sister of Thomas Boleyn and therefore Queen Anne Boleyn's aunt. She was married to Sir John Shelton and the couple were in charge of the combined household of Henry VIII's daughters, Mary and Elizabeth, from 1533, with Sir John acting as steward. The couple had nine children, including Margaret and Mary Shelton.
In May 1536, Lady Anne was appointed to serve her niece, Anne Boleyn, during her imprisonment in the Tower. It is thought that Lady Anne did not sympathise with her niece at this point because she had been angry with Anne when she had pushed Mary Shelton into having an affair with Henry VIII to prevent him from having an affair with a lady not sympathetic to Anne.
Margaret Dymoke (Coffin)
Margaret was born c1500 and her second husband was Sir William Coffin who was Anne Boleyn's Master of the Horse. Like Lady Anne Shelton and Mary Scrope, Margaret was appointed to serve Anne Boleyn in the Tower in May 1536. After Anne's execution, Margaret went on to become a lady-in-waiting to Jane Seymour.
Lady Elizabeth Boleyn (née Wood)
Lady Boleyn was the wife of Sir James Boleyn, brother of Thomas Boleyn and chancellor of the household of Queen Anne Boleyn, and aunt to Anne Boleyn. She was also one of the women appointed to serve Anne Boleyn in May 1536 in the Tower of London and she, along with Lady Kingston, accompanied Anne Boleyn to her trial on the 15th May 1536.
Elizabeth Stoner (Mrs Stoner)
Elizabeth Stoner was the fifth woman appointed to serve Anne Boleyn in the Tower in order that Anne's words could be reported back to Thomas Cromwell and used as evidence against her. She served under each of Henry VIII's six wives and held the position of 'Mother of the Maids', meaning that she was in charge of the younger ladies-in-waiting.
Jane Seymour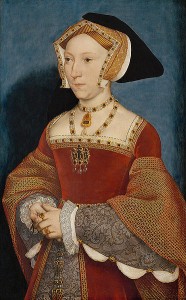 Before becoming Queen, Jane served as a lady-in-waiting, or maid-of-honour, to Queen Catherine of Aragon and Queen Anne Boleyn. She married Henry VIII on the 30th May, just 11 days after the execution of his previous wife, Anne Boleyn, and was the mother of King Edward VI, Henry VIII's only surviving son. She died on the 24th October 1537 probably from puerperal fever (childbed fever), a bacterial infection common after childbirth.
For more information on Jane Seymour, see Jane Seymour – Redefining the Myth and Jane Seymour
Lady Bridget Wingfield (née Wiltshire, later Hervey, then Tyrwhitt)
Lady Wingfield was born Bridget Wiltshire and was the daughter of Sir John Wiltshire of Stone Castle, Kent, who was a neighbour of the Boleyn family who lived at Hever Castle. It is thought that she served Catherine of Aragon as a lady-in-waiting and then served Anne as Lady of the Bedchamber. She was married three times: Lord Deputy of Calais Sir Richard Wingfield (d. 1525) in 1513, diplomat Sir Nicholas Hervey/Harvey (d. 1532) and Sir Robert Tyrwhitt.
In "The Rise and Fall of Anne Boleyn", Retha Warnicke, writes of how, in 1530, one of Anne Boleyn's closest companions was Lady Wingfield6 and that in autumn 1532 Anne and Henry VIII stopped at the home of Lady Wingfield on their way to Dover to travel to France.
Lady Wingfield died in 1533/1534 but she testified against Anne Boleyn "from the grave"7. It was alleged that Lady Wingfield had written to a friend "about Anne's sexual habits that may have taken place before she was officially recognised as the king's wife, thus making the "incredible charge that she had subsequently engaged in carnal relations with five men seem plausible."8
Mary Shelton
Mary was the daughter of Sir John Shelton and Lady Anne Shelton (née Boleyn) and cousin of Anne Boleyn. It is unclear whether she or Margaret Shelton had an affair with Henry VIII but it is now thought that Mary Shelton was the 'Madge Shelton' who Henry Norris was meant to marry and who became the King's mistress.
Elizabeth Somerset/Elizabeth Browne, Countess of Worcester
Elizabeth Browne was the daughter of Sir Anthony Browne, wife of Henry Somerset, 2nd Earl of Worcester, from c1527, and a lady-in-waiting to Queen Anne Boleyn. She stood to the left of Anne Boleyn at her coronation dinner in 1533 "ready to hold a fine cloth in front of Anne's face whenever she wanted to spit."9
It is alleged that she was a mistress of King Henry VIII, and that when her brother, also called Sir Anthony Browne, reprimanded her for her immoral behaviour in 1536, Elizabeth told him that she was "no worse than the queen". This story comes from a poem by Lancelot de Carles and de Carles also has the woman thought to be the Countess of Worcester saying: "I must not forget to tell you what seems to me to be the worst thing, which is that often her brother has carnal knowledge of her in bed."10 G W Bernard writes of how "there is strong evidence that it was the countess of Worcester's revelations that sparked the arrests and trials" in April and May 1536. Anne Boleyn, however, was unaware of this and actually spoke, during her imprisonment in the Tower, of her concern for the Countess and her unborn child: "[Anne] much lamented my lady of Worcester for because her child did not stir in her body, and [Lady Kingston] said, 'What should be the cause?' She said, 'For sorrow she took for me.' "11
Trivia: Elizabeth borrowed £100 from Anne Boleyn in April 1536.
If you know of any more information regarding these ladies then please share in the comments section below.
Notes and Sources
The Life and Death of Anne Boleyn, Eric Ives, p81-82
Ibid., p145
LP vi.1164
The Rise and Fall of Anne Boleyn, Retha Warnicke, p203
Ibid., p39
Ibid., p227
Ibid., p228
Anne Boleyn: Fatal Attractions, G W Bernard, p154
Ibid., p153
Eric Ives, p333