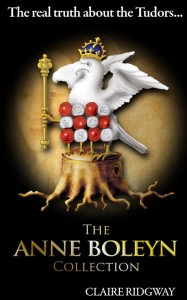 Amazon UK had my first book, The Anne Boleyn Collection, on offer for a couple of weeks for 99p (the Kindle version) and now Amazon.com users can get their hands on it for $0.99 for a limited period! Click here to download it now.
The Anne Boleyn Collection is a Kindle Countdown Deal on Amazon US from now until the end of the 10th December so grab it while you can and please do spread the news to other Tudor history lovers.
I do hope you enjoy my books. I do my best to make them interesting, educational and affordable!
The Anne Boleyn Collection is also available as a paperback and also as an audio book.
P.S. Congratulations to Helen H and Lauren (no surname) for being the winners of the "In the Footsteps of Anne Boleyn" giveaway, I will be emailing you two for you addresses.
P.P.S. Remember to check out The Anne Boleyn Files Advent Calendar.