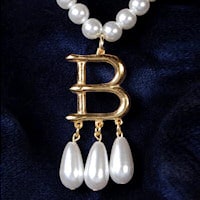 To commemorate the anniversary of Anne Boleyn's execution on 19th May, we are offering discounts on our Anne Boleyn A and B Necklace ranges from now until the end of May.
The standard faux pearl B and A necklaces are now $55 (instead of $60), the luxury freshwater editions are $75 (instead of $80), the standard combo is $75 (instead of $80) and the luxury freshwater combo is $115 (instead of $125). See our B necklace page for more details – click here.
The necklaces are handmade by Steve Millingham, a British jeweller who has supplied pieces of jewellery for the TV adaptation of "Wolf Hall", "The Tudors" series, "Downton Abbey", "The Other Boleyn Girl", the West End production of "A Man For All Seasons", Hampton Court Palace, The Tower of London, English Heritage, the National Trust and various museums. Steve makes these necklace exclusively for The Anne Boleyn Files.
Here is a slideshow of our A and B necklace products:
[slideshow id=590 w=300 h=300]