Posted By Claire on April 29, 2014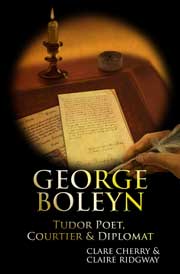 Our George Boleyn biography is finally available! We aimed for the end of April for its release and we made it – phew! George Boleyn: Tudor Poet, Courtier and Diplomat is available as a paperback and kindle on Amazon, an ebook on Lulu.com, and will also be rolling out to Kobo, Barnes & Noble, the Book Depository, Nook, the iBookstore and bookstores over the next few weeks and months. Here are the details…
Blurb
George Boleyn has gone down in history as being the brother of the ill-fated Queen Anne Boleyn, second wife of Henry VIII, and for being executed for treason, after being found guilty of incest and of conspiring to kill the King.
This biography allows George to step out of the shadows and brings him to life as a court poet, royal favourite, keen sportsman, talented diplomat and loyal brother. Clare Cherry and Claire Ridgway chart his life from his spectacular rise in the 1520s to his dramatic fall and tragic end in 1536.
George Boleyn: Tudor Poet, Courtier and Diplomat is divided into three sections – Beginnings, Career and Influence, and End of an Era – and topics include:
George Boleyn's poetry
Personal attributes and social pursuits
Religion
George's marriage to Jane Parker
The Reformation Parliament and the League of Schmalkalden
George the Diplomat
The fall of the Boleyns, arrests and trials
The aftermath of their fall
George Boleyn, Dean of Lichfield, and the Clonony Castle Boleyns
The biography is fully referenced and includes chapter notes, bibliography and useful appendices.
Paperback: 386 pages
Publisher: MadeGlobal Publishing (April 26, 2014)
Language: English
ISBN-10: 8493746452
ISBN-13: 978-8493746452
ASIN: B00JYFZVX8
How to buy
Here are some links to order a copy. If the paperback is not available yet in your country, it will be in the next few weeks:
Amazon.com – http://amzn.to/PKaHVX
Amazon.co.uk – http://amzn.to/1lnaZ1A
Lulu.com – For an epub version of the ebook suitable for the NOOK, Apple devices and ebook readers click here.
Kobo – coming soon!
Amazon international sites – The Kindle version should be available and the ASIN is B00JYFZVX8
Clare and I would like to take this opportunity to thank you all for your support and encouragement with this book. It was wonderful to have you all involved in giving us feedback on the cover and title – a real group effort. Thank you.