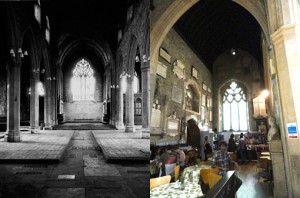 On this day in history, Elizabeth Boleyn, Lady Wiltshire, wife of Thomas Boleyn and mother of Mary, Anne and George, was buried in the Howard Chapel of St Mary's Church, Lambeth.
She had died a few days earlier, on the 3rd April, at Baynard's Castle, home of the Abbot of Reading, an event which Thomas Warley reported to Lady Lisle in Calais on the 7th April 1538:-
"My lady of Wiltshire died on Wednesday last beside Baynard's castle."1
Elizabeth's funeral was also reported to Lady Lisle, this time by John Hussey on the 9th April:-
"My lady Wiltshire was buried at Lamehithe on the 7th… She was conveyed from a house beside Baynard's Castle by barge to Lambeth with torches burning and four baneys (banners?) set out of all quarters of the barge, which was covered with black and a white cross."2
Sir John Russell, Lord Comptroller, was the chief male mourner and Elizabeth's half-sister, Katherine Howard, Lady Daubenay, was the chief female mourner.
St Mary's Church, Lambeth, is now a garden museum and Elizabeth's tomb is not visible because it lies underneath the wooden floor of the museum cafe. Although some people have commented on how awful this is, the museum actually saved the church and so saved the Howard tombs.
Many people wonder if the fact that Elizabeth is not buried next to her husband at Hever is evidence of some kind of separation between them but as Linda Saether points out in her wonderful article about her search for Elizabeth's tomb, there are many Howard women buried at Lambeth and she wondered if "Howard women expected to be 'brought home' for burial in the Howard Chapel regardless of whom they married." We also know that Elizabeth died at Baynard's Castle in London so perhaps it made sense for her to be buried in London rather than to be taken back to Hever in Kent. I guess we'll never know!
You can read more about her resting place in Linda's article "Searching for the Grave of Elizabeth Boleyn, Countess of Wiltshire"
It is not known what Elizabeth Boleyn died of but she was reported as being "sore diseased with the cough which grieves her sore"3 in April 1536, and Anne Boleyn, when arrested and taken to the Tower in May 1536, had commented "O, my mother, [thou wilt die with] sorow"4. Perhaps Elizabeth had been fighting tuberculosis,5 we just don't know.
Photo by Dr Linda Saether
Notes and Sources
LP xiii. part 1 696
LP xiii part 1 717
LP x. 669
LP x. 793
Sir Thomas Boleyn: The Courtier Diplomat, 1477-1539, William Hughes Dean, p186