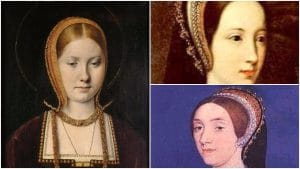 6th November was quite a busy day in Tudor history! We have Mary Tudor's entry into Paris, following her coronation on this day in 1514; we have the first meeting of Catherine of Aragon and Arthur Tudor, on this day in 1501; and then we have Henry VIII abandoning Catherine Howard at Hampton Court Palace on this day in 1541, following the investigation into John Lassell's claims about her sexual history.
Click on the "read more…" links below to read more about each of these events.
On this day in history, 6th November 1501 (some sources say 4th), Catherine of Aragon, daughter of Ferdinand II of Aragon and Isabella I of Castile, met Arthur, Prince of Wales, the man she would soon marry, at Dogmersfield in Hampshire, a palace that belonged to the Bishop of Bath and Wells.
Fifteen year-old Catherine had left her home, the Alhambra Palace in Granada, southern Spain, on 21st May 1501 to make the gruelling 500+ mile journey to A Coruña, a port in Galicia, north-western Spain. Catherine's party had originally set sail for England on 17th August but strong storms in the Bay of Biscay had forced her fleet to land at Laredo, near Bilbao. After hearing of her first failed attempt to reach England, Catherine's future father-in-law sent one of his best captains, Stephen Butt, to steer her ship through the treacherous Bay of Biscay. At 5 o'clock in the afternoon of the 27th September 1501, Catherine's party set sail once more. Although violent storms affected their journey again, this time just off the coast of Brittany, the party landed safely at the port of Plymouth, Devon, on 2nd October 1501.
On this day in 1514, Mary Tudor, Queen of France, processed into Paris following her coronation the day before at St Denis.
It was a lavish occasion and must have been an incredible sight. According to Pierre Grigore, the pageants of Mary's triumphant entry into the city included:
A fountain with three jets watering a lily and red rose, representing France and England, and three ladies dressed as the Graces – Beauty, Mirth and Prosperity – who were uniting the lily and the rose.
Mary as the Queen of Sheba bringing her gift of peace to her husband, Louis XII, whose wisdom was renowned, just like that of Solomon.
On Sunday 6th November 1541, Catherine Howard, Henry VIII's fifth wife, was abandoned by her husband at Hampton Court Palace, never to see him again.
During the day, the King had "dined at a little place in the fields" near the palace "on pretext of hunting", and then that night returned to London and met with his council from midnight "until 4 or 5 a.m. on Monday". The investigation into John Lassell's claims that Catherine had engaged in two sexual relationships during her time in the Dowager Duchess of Norfolk's household had proved them true.
Read more… or watch the video below: