Posted By Claire on November 8, 2016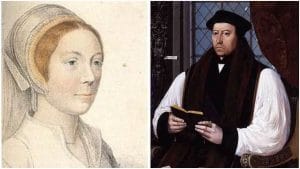 After abandoning the idea of interrogating the hysterical Queen Catherine Howard on 7th November (click here for more on what happened), Archbishop Cranmer returned to the Queen's apartments at Hampton Court Palace on 8th November 1541 to interrogate her.
Cranmer reported to Henry VIII that he had intended to question her severely, "first, to exaggerate the grievousness of her demerits; then to declare unto her the justice of your grace's laws, and what she ought to suffer by the same", but that she was in such a state that "the recital of your grace's laws, with the aggravation of her offences, might peradventure have driven her unto some dangerous ecstasy, and else into a very frenzy." He therefore changed tactics and treated her more gently.
Also on this day in history, 8th November 1528, King Henry VIII made a public oration to "the nobility, judges and councillors and divers other persons" at Bridewell Palace to explain his troubled conscience regarding the lawfulness of his marriage to Catherine of Aragon. Click here to read more.