8 November 1528 – Henry VIII's troubled conscience
Posted By Claire on November 8, 2014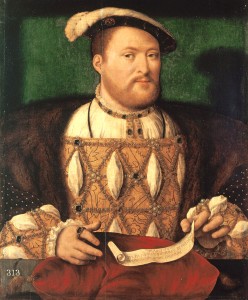 On 8th November 1528, at Bridewell Palace, King Henry VIII made a public oration to "the nobility, judges and councillors and divers other persons" to explain his troubled conscience regarding the lawfulness of his marriage to Catherine of Aragon.
In this speech, the King explained that due to his worry that Mary was not his lawful daughter and that Catherine was not his lawful wife, he had sent for a legate "to know the truth and to settle my conscience." He went on to say "if it be adiudged by the law of God that she is my lawfull wife, there was neuer thyng more pleasaunt nor more acceptable to me in my lifebothe for the discharge & cleryng of my conscience & also for the good qualities and condicions the which I know to be in her" and "if I were to mary againe if the mariage might be good I would surely chose her aboue all other women".
By this time, of course, Henry VIII was courting Anne Boleyn and seeking an annulment of his marriage to Catherine of Aragon, so I don't know what Anne thought of Henry's words. These words would also have been little comfort to Catherine of Aragon.
Click here to see a chronology, or timeline, of Anne Boleyn and Henry VIII's relationship from 1528 to 1533.
Notes and Sources
Acts and Monuments, John Foxe – you can read this section online at www.johnfoxe.org