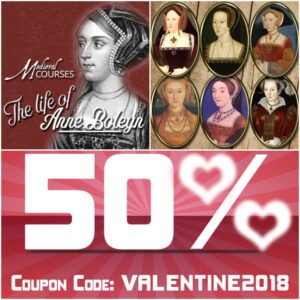 You can save 50% off all of MedievalCourses.com's online history courses at the moment, until 15th February 2018, by using coupon code VALENTINE2018 at checkout. Gift certificates are also available so you can buy a course as a Valentine's Day gift.
The offer includes my "The Life of Anne Boleyn" course, Gareth Russell's "The Six Wives of Henry VIII" course and Toni Mount's course "The English Reformation", as well as seven other history courses.
The coupon can be used as many times as you like and these online courses have no set start or end date so you can buy now and then begin a course when it suits you. They are completely online and comprise audio or video lessons with transcripts and resources.
You can browse the ten courses that are available at https://medievalcourses.com/overview/ but here they are:
Just remember to use coupon code VALENTINE18 at checkout!