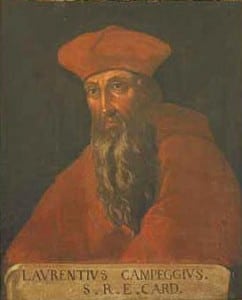 On 31st May 1529, the formal trial to investigate Henry VIII's case for an annulment of his marriage to Catherine of Aragon was opened at Blackfriars.
A papal bull in April 1528 had given Cardinal Wolsey the authority to "to take cognisance of all matters concerning the King's divorce" in England, with the assistance of Cardinal Campeggio, who was made papal legate in June 1528 in preparation for a hearing. Unfortunately, Campeggio didn't arrive in England until December 1528 and even then further negotiations had to be carried out with Rome. Campeggio stalled for as long as he could, but the trial finally opened on 31 May 1529.
See Cardinal Campeggio and the Legatine Court for more information on the proceedings.
Also on this day in history…
1443 – Birth of Lady Margaret Beaufort, Countess of Richmond and Derby, and matriarch of the Tudor dynasty. She was born at Bletsoe Castle in Bedfordshire and was the only child of Margaret Beauchamp of Bletsoe and John Beaufort, 1st Duke of Somerset, grandson of John of Gaunt, 1st Duke of Lancaster, and his mistress (and eventual wife) Katherine Swynford. You can read more about her in my article Lady Margaret Beaufort.