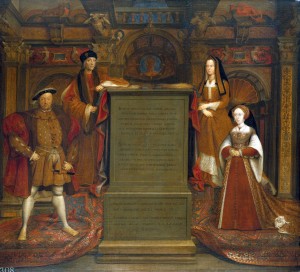 Following their betrothal on 20th May 1536, the day after Anne Boleyn's execution, Henry VIII married his third wife, Jane Seymour, on Tuesday 30th May 1536 in the Queen's Closet at York Place (Whitehall).
We call Jane Seymour Henry VIII's third wife, but in Henry's eyes she was his "first true wife" because his previous marriages had been invalid. Henry had high hopes for this marriage, he believed that this time he had got it right, and when Jane gave birth to a son on 12th October 1537 he took that as a sign of God's blessing.
Queen Jane's first public appearance was on the 2nd June 1536 and this was recorded by Sir John Russell in a letter to Lord Lisle:
"On Friday last [2nd June] the Queen sat abroad as Queen, and was served by her own servants, who were sworn that same day. The King came in his great boat to Greenwich that day with his privy chamber, and the Queen and the ladies in the great barge."
Jane was then officially proclaimed Queen at Greenwich Palace on 4th June 1536, Whitsun. Of course, Whitsun three years previously had been all about another queen, it had been the day of the coronation of Queen Anne Boleyn.