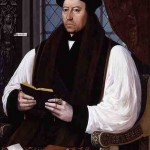 On 30th March 1533, Passion Sunday, Thomas Cranmer, Archdeacon of Taunton, was consecrated as Archbishop of Canterbury by the bishops of Lincoln, Exeter, and St Asaph at a service in St Stephen's College, Westminster Palace.
Click here to read more about that.
Also on this day in history, 30th March 1558, Queen Mary I made her will, believing that she would soon give birth, and childbirth was a risky process. Click here to read more about her last will and testament.