Posted By Claire on March 22, 2016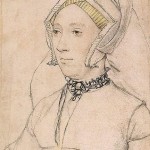 The 22nd March 1519 is the date traditonally given as the birth date of Katherine Brandon (née Willoughby), Duchess of Suffolk, daughter of William Willoughby, 11th Baron Willoughby de Eresby, and Lady Maria de Salinas, maid-of-honour to Queen Katherine of Aragon.
Katherine was born at Parham Old Hall, Suffolk, and baptised at Parham Church a few days later, being named after the queen.
Following the Baron's death in 1526, Katherine became a ward of Charles Brandon, Duke of Suffolk, in February 1529.