22 March 1519 – Birth of Katherine Willoughby, Duchess of Suffolk
Posted By Claire on March 22, 2013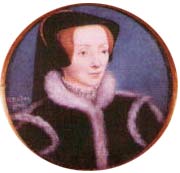 Today is the traditional birth date of Katherine Willoughby (married names: Brandon and Bertie), daughter of William Willoughby, 11th Baron Willoughby de Eresby, and Lady Maria de Salinas, maid-of-honour to Queen Katherine of Aragon.  Katherine was baptised at Parham Church in Suffolk and was named after Katherine of Aragon.
Following the Baron's death in 1526, Katherine became a ward of Charles Brandon, Duke of Suffolk, in February 1529. In July 1531, Eustace Chapuys, the Imperial ambassador, reported that Anne Boleyn had accused Suffolk of "criminal intercourse with his own daughter"1 and this is thought to refer to the Duke's relationship with Katherine, who was aged twelve at the time.2 Just two years later, in September 15333 and less than three months after the death of his wife, Mary Tudor, Brandon married Katherine. The couple went on to have two sons, Henry and Charles, who unfortunately died of sweating sickness in 1551.
Suffolk died on 22nd August 1545 and in around 1552 Katherine remarried, marrying her gentleman usher Richard Bertie. The couple had two children: Susan, who was born in England, and Peregrine, who was born in Wesel while the family was in exile during Mary I's reign.
Katherine had grown up as an orthodox Catholic but came into contact with reformers in Suffolk's household. In her book on Katherine, Melissa Franklin Harkrider4 writes that although some historians credit Katherine "with the spread of religious change within her husband's circle" that it is "unlikely that she was the catalyst for this change in their early years of marriage" because she was only a teenager at the time. Suffolk appears to have been a patron of evangelicals and it seems that Katherine's association with them "laid the foundation for her later acceptance of the centrality of scripture and justification by faith." By the 1540s, Katherine was an evangelical and became friends with Katherine Parr who appointed her as a lady-in-waiting when she became Queen in 1543. In Parr's household, Katherine mixed with other evangelical women, including Anne Seymour, Countess of Hertford; Lady Elizabeth Tyrwhit; Jane Dudley, Lady Lisle, and Lady Joan Denny, and evangelical men like Dr Robert Huick, Sir Philip Hoby and John Parkhurst5 In 1546, her evangelical views put her in danger when outspoken evangelical Anne Askew was arrested and racked by Lord Wriothesley and Richard Rich in an attempt to get her to name evangelicals in the Queen's household. Askew refused to cooperate and was burned at the stake, Katherine was safe.
Katherine's biographer, Susan Wabuda, writes of how "Under Edward VI, Katherine's encouragement and inexhaustible purse helped to shape a new protestant culture" and that leading theologians "had reason to pay her homage."6 However, Edward VI's reign only lasted from 1547 until 1553 and Roman Catholicism was restored when Mary I came to the throne. Katherine refused to adopt Catholicism and followed her husband into exile in 1555, returning in 1559 when Elizabeth I was on the throne. Although England was now a Protestant country, Katherine was a "forward Protestant" rather than an "moderate" like the Queen and Elizabeth I's Religious Settlement didn't go far enough in Katherine's eyes.7 Katherine did not join the Queen's household and, instead, concentrated on promoting her own idea of reform in Lincolnshire. She employed Miles Coverdale to teach her children and welcomed "forward Protestants" to her household.
Katherine died on 19th September 1580 and was buried in Spilsby church, Lincolnshire, being joined by her husband two years later. The tomb with its inscriptions from Job, Hebrews, Luke and John, "offers an elaborate presentation of her religious views, and reflects her desire, even in death, to encourage men and women to embrace Protestantism."7
Trivia: Katherine had a spaniel which she named Gardiner and which she dressed in a vestment and processed in "a mock parade to humiliate her religious opponent Stephen Gardiner and voice her opposition to elaborate clerical robes"8. It is also said that she enjoyed calling her dog, Gardiner, to heel!9
Notes and Sources
Calendar of State Papers, Spain, Volume 4 Part 2: 1531-1533 (1882), pp. 203-217, Note 765
Although Chapuys says "sa propre fille" (his own daughter), historians including Susan Wabuda (Wabuda, 2004) take this to mean his ward, Katherine Willoughby because he married her only two years later.
LP vi. 1069
Harkrider, Melissa Franklin (2008) Women, Reform and Community in Early Modern England: Katherine Willoughby, Duchess of Suffolk, and Lincolnshire's Godly Aristocracy, 1519-1580, Woodbridge, The Boydell Press, p40.
Ibid., p49
Wabuda, Susan (2004) Bertie , Katherine, duchess of Suffolk (1519–1580), Oxford DNB, Oxford Univeristy Press
Harkrider, p116
Ibid., p134
Ibid., p58; Martienssen, Anthony (1973) Queen Katherine Parr, New York, McGraw-Hill Book Company