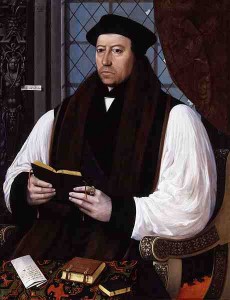 On this day in 1533, Passion Sunday, Thomas Cranmer, Archdeacon of Taunton, was consecrated as Archbishop of Canterbury in St Stephen's College, Westminster Palace, by the bishops of Lincoln, Exeter, and St Asaph. His biographer, Henry John Todd, writes of how, before he took the oath of obedience to the see of Rome, he made the following 'protestation':
"In the name of God, Amen. I Thomas, archbishop of Canterbury elect, do before you, persons of authority and credible witnesses, here present, say, allege, and, by this present instrument in writing, openly, publicly, and expressly protest, that whereas before my consecration, or at the time thereof, I am obliged to take the oath, or oaths, usually taken by the archbishops of Canterbury elect to the pope, for form sake, rather than for any essentiality or obligation there is in the thing, in order to my obtaining the same: It neither is, nor shall be, my will or intention to oblige myself by the said oath, or oaths, howsoever the same may seem to be worded, to any thing hereafter to be said, done, or attempted, by reason thereof, which shall be, or seem to be, contrary to the law of God, or contrary to our most illustrious king of England, or the commonwealth of this his kingdom of England, or to the laws or prerogatives of the same: And that I do not intend to oblige myself by the said oath, or oaths, in any manner whatsoever, so as to disable myself freely to speak, consult, and consent, in all and singular the matters, and things, any way concerning the reformation of Christian religion, the government of the Church of England, or the prerogatives of the crown thereof, or the good of the commonwealth; and every where to execute and reform those things, which I shall think fit to be reformed in the Church of England.
And I do protest and profess, that I will take the said oath, or oaths, according to this interpretation and this sense, and none other, nor in any other manner. And I do further protest, that whatsoever the oath may be, which my proctor hath already taken to the pope in my name, it was not my intention or will to give him any power, by virtue whereof he might take any oath in my name contrary to, or inconsistent with, the oath by me already taken, or hereafter to be taken, to our said illustrious king of England: And in case he hath taken any such contrary or inconsistent oath in my name, I do protest, that the same being taken without my knowledge, and without my authority, shall be null and invalid. And these my protestations I will have to be repeated, and reiterated, in all the clauses and sentences of the said oaths: From which [protestations] I do not intend, in any manner whatsoever, by deed or by word, to recede, nor will recede, but will always hold the same to be firm and binding to me."
Todd explains that this protest was introduced three times at Cranmer's consecration; firstly in front of witnesses at the chapter-house of St Stephen's, secondly after he had processed from the chapter-house to the altar and finally after he had been consecrated and had received the pall.
This protestation's aim was to show that the oath of obedience to the papacy that Cranmer took at his consecration would not be in conflict with his loyalty to Henry VIII and his commitment to "reformation of Christian religion".
Cranmer's first duty as Archbishop was to preside over the convocation meeting to to discuss the validity of the Henry VIII's marriage to Catherine of Aragon, his brother's widow. You can read more about this in my article Thomas Cranmer Consecrated as Archbishop of Canterbury and 23 May 1533 – Archbishop Cranmer Declares the Annulment of Henry VIII's Marriage to Catherine of Aragon.
Notes and Sources
Cranmer's protestation is taken from The Life of Archbishop Cranmer by Henry John Todd, p58-60
MacCulloch, Diarmaid (2004) 'Cranmer, Thomas (1489–1556)', Oxford Dictionary of National Biography, Oxford University Press