29 January 1536 – The Burial of Catherine of Aragon
Posted By Claire on January 29, 2013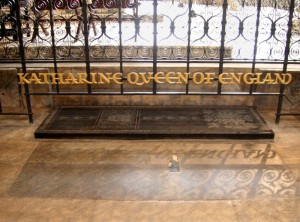 On 29th January 1536, Catherine of Aragon, Henry VIII's first wife, was buried at Peterborough Abbey, now Peterborough Cathedral.
The annulment of her marriage to Henry VIII in 1533 had led to her being denied the denied of Queen and being given the title of Dowager Princess of Wales, referring to her first marriage to Henry's older brother, Arthur. Henry VIII ordered that she be buried as Dowager Princess, and not queen. We know of his instructions regarding Catherine's burial from Ralph Sadler's report to Cromwell:
"This morning I declared to the King all things contained in my memorial. He answered that for any hearse to be had at Paul's it should be more charge than was either requisite or needful. When I said that his sister [Mary, Queen of France] had one, he replied that she was a Queen, and as the princess Dowager is to be buried at Peterborough with so great solemnization, and the Emperor's ambassador was to be there present, there was no need of a hearse at Paul's."1
Julia Fox, author of "Sister Queens", writes:
"There was to be no elaborate tomb. Thus, she was afforded a solid, respectful interment in the abbey church at Peterborough. There were candles, there were banners with the various royal arms of England and Spain and her pomegranate emblem."2
Frances Brandon, eldest daughter of Charles Brandon, Duke of Suffolk, and the late Mary Tudor, Queen of France, acted as chief mourner and the funeral was also attended by Catherine's former lady-in-waiting and great friend, Maria de Salinas, and her daughter, Catherine Willoughby, who had married Charles Brandon.
Catherine was buried as Dowager Princess but today is recognised as Queen, the railings behind the stone slab marking her resting place being decorated with the words "Katharine Queen of England". According to her biographer, Giles Tremlett,3 an appeal in the 19th century to women in England named Catherine/Katherine raised enough money to replace the stone slab and in 1986 a wooden plaque reading "A queen cherished by the English people for her loyalty, piety, courage and compassion" was added. Each year, the anniversary of Catherine's funeral is commemorated by a special service at the Cathedral, attended by the present Spanish ambassador, and her tomb is decorated with flowers and pomegranates. An itinerary of Tudor-themed events is also planned each year and has become known as the "Katharine of Aragon festival".4 Henry VIII may have put her aside, but Catherine is still cherished and remembered today.
Notes and Sources
LP x. 76
Sister Queens: The Noble, Tragic Lives of Katherine of Aragon and Juana, Queen of Castile, Julia Fox, Hardback US Version (Ballantine Books), p349
Catherine of Aragon: Henry's Spanish Queen, Giles Tremlett, Faber & Faber