29 January 1536 – Queen Anne Boleyn Loses a Son
Posted By Claire on January 29, 2013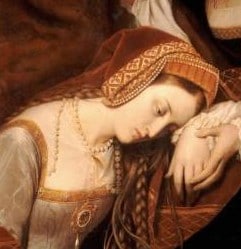 The Imperial ambassador, Eustace Chapuys, reported to Charles V on 10th February 1536 that on the day of Catherine of Aragon's funeral, i.e. 29th January 1536, Anne Boleyn miscarried "a male child which she had not borne 3½ months".1 This report is backed up by the chronicler Charles Wriothesley, Windsor Herald and cousin of Thomas Wriothesley (Cromwell's right hand man), who recorded that "Queene Anne was brought a bedd and delivered of a man chield, as it was said, afore her tyme, for she said that she had reckoned herself at that tyme but fiftene weekes gonne with chield…", although he stated that it was "three daies before Candlemas", i.e. 30th January.2
Chronicler Edward Hall also wrote of the miscarriage:
"And in February folowyng was quene Anne brought a bedde of a childe before her tyme, whiche was born dead."3
It is not clear exactly when Anne Boleyn miscarried, but it was sometime around the end of January/beginning of February and it was a miscarriage rather than a stillbirth. There is no contemporary evidence that it was anything other than a straightforward miscarriage and you can read more about this in my article "Anne Boleyn's Final Pregnancy".
This is one of the events you will find on the interactive timeline of the events of spring 1536 over at www.thefallofanneboleyn.com.
Notes and Sources
LP x.282
A chronicle of England during the reigns of the Tudors, from A.D. 1485 to 1559, Charles Wriothesley, p 33
Hall's Chronicle, p818