Posted By Claire on November 28, 2012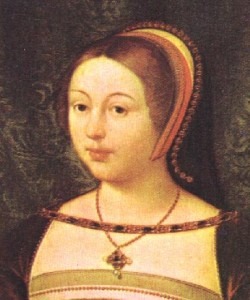 Today marks the anniversary of the birth of Margaret Tudor on 28th November 1489. Margaret was the eldest daughter of King Henry VII and his wife, Elizabeth of York, and the sister of Henry VIII. She became Queen of Scotland in 1503 after marrying James IV of Scotland by proxy at Richmond Palace on 25th January.
You can read more about Margaret in my article on The Death of Margaret Tudorbut here's a piece of Boleyn trivia for you – Thomas Boleyn was chosen by Henry VII to escort Princess Margaret to Scotland for her official marriage to James IV. Thomas was an important man and royal favourite long before his daughters caught the eye Henry VIII.