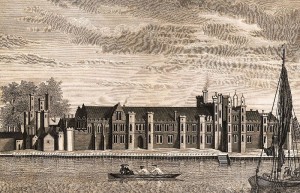 Let's set the scene a little before I tell you about today's news from 1536.
Queen Anne Boleyn's brother lost out to Nicholas Carew for an appointment to the Order of the Garter, commissions of oyer and terminer (legal commissions used to investigate and try serious criminal offences like treason) have been set up, Anne Boleyn has met with her chaplain and made him promise her something concerning her daughter, the Bishop of London has been consulted regarding whether the King can set Anne aside and writs have been sent out summoning Parliament even though it has only just been dissolved.
Do you get the feeling that something's going on in Tudor England? Well, today's events will make you even more suspicious.
On 28th April 1536, Thomas Warley wrote to Lord Lisle, Deputy of Calais, to keep him up to date on news at court. In his letter was the following information:
"Dr. Bonner came to Court yesterday, and asked heartily after you and my Lady. The Queen expects my Lady to meet her at Dover, as Mrs. Margery Horsman informed me, and on Tuesday next the King and Queen will lie at Rochester. On Monday I intend to leave for Dover or Sandwich, to await the coming of your Lordship and my Lady. The Council has sat every day at Greenwich upon certain letters brought by the French ambassador, who was at Court yesterday and divers other times."1
"Dr Bonner" was Edmund Bonner, Archdeacon of Leicester and the future Bishop of London, who had served the King as his agent in Rome when Henry VIII was trying to get his marriage to Catherine of Aragon annulled. His visit to court combined with the King's council meeting on a daily basis doesn't seem to have raised Warley's suspicions, but they raise ours when combined with what we learn from another primary source.
In a letter to Nicholas Perronet, Seigneur de Granvelle, Eustace Chapuys, the imperial ambassador, wrote that "Dr. Sampson, dean of the chapel, has been for the last four days continually with Cromwell."2 Dr Richard Sampson, a royal chaplain and the Dean of Lichfield, was an expert on canon law, so perhaps Cromwell was seeking his advice regarding an annulment of Henry VIII's marriage to Anne Boleyn. We don't know. But what we do know is that Sampson did go on to act as the King's proctor in the annulment proceedings in May 1536.
By themselves, these meetings aren't particularly suspicious, particularly as the King and Queen still appeared to be preparing for their forthcoming trip to Calais, but when added to the list of other events it becomes clear that something was definitely going on. We can also add something else to the list. On 29th April 1536, Chapuys wrote to Charles V regarding Nicholas Carew's appointment to the Order of the Garter and here is what he said about Carew:
"He continually counsels Mrs. Semel and other conspirators "pour luy faire une venue," and only four days ago he and some persons of the chamber sent to tell the Princess to be of good cheer, for shortly the opposite party would put water in their wine, for the King was already as sick and tired of the concubine as could be […]"3
So, Carew is advising Jane Seymour (Mrs. Semel), and Henry VIII's daughter Mary (the Princess) is being told "to be of good cheer" because things are going to get better because the King is tired of Anne. Hmm…
Also on this day in history…
1603 – Funeral of Elizabeth I. Click here to read more about the funeral procession and burial.
Notes and Sources
LP x. 748.
LPx. 753
LP x. 752
Picture: 18th century drawing of Greenwich Palace based on a contemporary source.