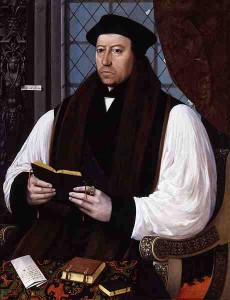 On 27th April 1536, writs were issued summoning Parliament to meet on 8th June 1536 and a letter written to Thomas Cranmer, Archbishop of Canterbury, asking him to attend the Parliament:
"Summons to the archbishop of Canterbury to attend the Parliament which is to meet at Westminster, 8 June; and to warn the prior and chapter of his cathedral and the clergy of his province to be present, the former in person and the latter by two proctors. Westm., 27 April 28 Hen. VIII.
ii. Similar writs to the different bishops, abbots, and lords; to the judges, serjeants-at-law, and the King's attorney, to give counsel; to the sheriffs to elect knights of the shires, citizens, and burgesses; also to the chancellor of the county palatine of Lancaster; to the deputy and council of Calais to elect one burgess, and to the mayor and burgesses to elect another."1
Parliament had only just been dissolved on 14th April, and, as Diarmaid MacCulloch points out, this was "the first newly elected Parliament for seven years" so following on from the setting up of commissions of oyer and terminer on 24th April it can be seen as one of "the stages of Anne's doom".2 Eric Ives believes that the summoning of Parliament was "an emergency measure" and I agree with him.3 Anne Boleyn was, of course, already dead before Parliament met in June, but I believe that this Parliament was being called in order to deal with issues regarding the Queen, the King's marriage and the succession. I don't believe that the King or Cromwell knew at this stage exactly what was going to happen with Anne, just that she needed to be put aside at any cost.
What do you think?
Also on this day in 1536, Bishop John Stokesley was approached regarding whether the King could set aside Anne Boleyn. Click here to read more about that.
Notes and Sources
LP x. 736
MacCulloch, Diarmaid (1998) Thomas Cranmer: A Life, p156
Ives, Eric (2004) The Life and Death of Anne Boleyn, p320