25 October 1529 – Sir Thomas More is made Lord Chancellor
Posted By Claire on October 25, 2015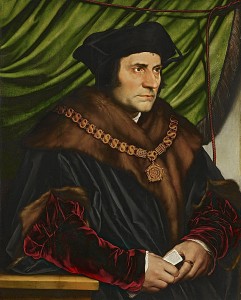 On 25th October 1529, Sir Thomas More was made Henry VIII's Lord Chancellor following the fall of Cardinal Thomas Wolsey, Henry's previous Lord Chancellor who had been forced to surrender the Great Seal on 17th October.
According to an account in Letters and Papers, the seal was then delivered to Sir Thomas More by the King himself on the 25th and Sir Thomas More took the oath of Chancellorship the following day:
"On the 25th Oct. the seal was delivered by the King at East Greenwich to Sir Thos. More, in the presence of Hen. Norres and Chr. Hales, Attorney General, in the King's privy chamber; and on the next day, Tuesday, 26 Oct., More took his oath as Chancellor in the Great Hall at Westminster, in presence of the dukes of Norfolk and Suffolk, Th. marquis of Dorset, Hen. marquis of Exeter, John earl of Oxford, Hen. earl of Northumberland, Geo. earl of Shrewsbury, Ralph earl of Westmoreland, John bishop of Lincoln, Cuthbert bishop of London, John bishop of Bath and Wells, Sir Rob. Radclyf, viscount Fitzwater, Sir Tho. Boleyn, viscount Rocheforde, Sir Wm.Sandys, Lord and others."
Eustace Chapuys, the imperial ambassador, also reported the event in a letter to his master Charles V:
"The Chancellor's seal has remained in the hands of the duke of Norfolk till this morning, when it was transferred to Sir Thomas More. Every one is delighted at his promotion, because he is an upright and learned man, and a good servant of the Queen. He was chancellor of Lancaster, an office now conferred on the Sieur Villeury (Fitzwilliam). Richard Pace, a faithful servant of your Majesty, whom the Cardinal had kept in prison for two years, as well in the Tower of London as in a monastery (Syon House), is set at liberty. Unless his mind should again become unsettled, it is thought he will rise in higher favour at Court than ever."
As for Cardinal Wolsey, although he was stripped of his office and his home, York Place, he was able to carry on as Archbishop of York until he was again accused of treason in 1530. On the 29th November 1530, Cardinal Wolsey died on his way to London to answer charges of treason.
You can find out more about Sir Thomas More in an excellent article by Beth von Staats – "The Real Wolf Hall – Who was Thomas More?"
Sources