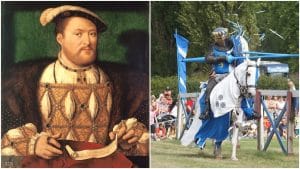 On this day in history, 24th January 1536, at a joust at Greenwich Palace, King Henry VIII and his horse "both fell so heavily that every one thought it a miracle he was not killed".
It is not known exactly what happened or how serious the accident was, but it put an end to Henry's jousting days, a blow for the once athletic king and enthusiastic jouster.
There are three main contemporary accounts of the king's 1536 jousting accident. The first, which is often used to back up the idea that the accident was a serious one and may have caused a frontal lobe injury, is from an account of the accident written by Pedro Ortiz, or Dr Ortiz, to the Empress on 6th March 1536:
"Has received a letter from the ambassador in France, dated 15 Feb., stating that he hears from England that the King intends to marry the Princess to an English knight. The French king said that the king of England had fallen from his horse, and been for two hours without speaking. "La Ana" was so upset that she miscarried of a son."
The problem with this account of the king being "without speaking" for two hours, which suggests that he was unconscious, is that it is hearsay and very much third-hand hearsay. Ortiz was in Rome and it appears that he heard the news from the French ambassador who heard it from Francis I, who himself wasn't present at the joust and must have heard it from one of his ambassadors in England. Two accounts written by people who were in England, at the English court, at the time, make no mention of the king being unconscious. Eustace Chapuys, the imperial ambassador in England, wrote:
"On the eve of the Conversion of St. Paul, the King being mounted on a great horse to run at the lists, both fell so heavily that every one thought it a miracle he was not killed, but he sustained no injury."
And chronicler Charles Wriothesley, in writing of Queen Anne Boleyn's miscarriage on 29th January, recorded:
"[…] it was said she [Anne] tooke a fright, for the King ranne that tyme at the ring and had a fall from his horse, but he had no hurt; and she tooke such a fright with all that it caused her to fall in travaile, and so was delivered afore her full tyme, which was a great discompfort to all this realme."
Whether or not it caused any type if brain injury, it was enough to stop the king from jousting again, it may have reminded the king of his mortality and the need for a son and heir, and the queen said that the shock of hearing news of the king's accident caused her to miscarry. The accident had an impact.
Notes and Sources
Picture: Henry VIII by Joos van Cleve and a photo of jousting at Hever Castle by Peter Trimming, Geograph.org.uk.
Letters and Papers, Foreign and Domestic, Henry VIII, Volume 10, 427, Dr Ortiz to the Empress
Ibid., 200, Chapuys to Granvelle
Wriothesley, Charles (1875) A chronicle of England during the reigns of the Tudors, from A.D. 1485 to 1559, p. 33