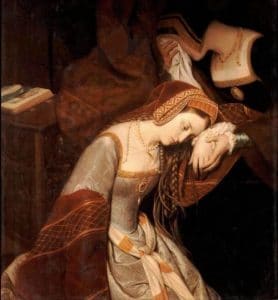 Queen Anne Boleyn had been found guilty of high treason by a jury of her peers in a trial on 15th May 1536. She had been sentenced "to be burned or beheaded as shall please the King" and then her sentence was commuted to beheading by sword.
Thursday 18th May 1536 was the date chosen for her execution, so Anne spent the night of 17th/18th preparing for death by praying with her almoner. She then made her last confession and celebrated the Mass with Thomas Cranmer, Archbishop of Canterbury and a man who had been her good friend. She took the opportunity to swear her innocence on the sacrament, thus putting her soul in mortal danger if she was lying, and then made arrangements for the traditional distribution of alms. Once this was done, Anne waited for Sir William Kingston to come and escort her to the scaffold.
Anne waited and waited, only to be told later that day that her execution was being postponed!
Picture: Anne Boleyn in the Tower by Edouard Cibot.