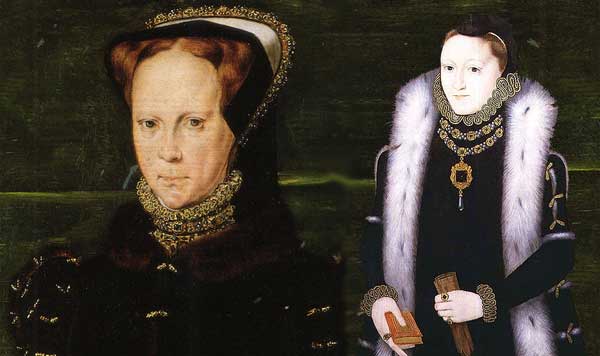 On 17th November 1558, Queen Mary I, daughter of Henry VIII and his first wife, Catherine of Aragon, died at St James's Palace, London. She was just forty-two years of age and had reigned for only five years and four months. She passed the throne on to her half-sister, Elizabeth, the twenty-five year-old daughter of Henry VIII and his second wife, Anne Boleyn.
Chronicler Charles Wriothesley recorded:
"Thursdaye the xviith of November, 1558, about sixe of the clock in the morning, Queene Marie died at her manor of St. James by Charinge Crosse.
And that daye at xi. of the clocke in the forenoone the Ladie Elizabeth, her sister next inheritor to the Crowne, was proclaymed Queene of Englande, France and Irelande, Defender of the Faythe, &c. in London, with herraldes of armes and trumpetors, &c."1
Merchant-tailor and diarist Henry Machyn wrote:
"The xvij day of November be-twyn v and vj in the mornyng ded [died] quen Mare, the vj yere of here grace('s) rayne, the wyche Jhesu have mercy on her solle! Amen.

[missing text]

[The same] day, be-twyne a xj and xij a' for[noon, the lady Eliza]beth was proclamyd quen Elsabeth, quen of England, France and Yrland, and deffender of the feyth, by dyvers haroldes of armes and trumpetors, and dukes, lordes [and knights,] the wyche was ther present, the duke of Norfoke, [the] lord tresorer, the yerle of Shrousbere, and the yerele of Bedford, and the lord mayre and the althermen, and dyver odur lordes and knyghtes.'

The sam day, at after-non, all the chyrches in London dyd ryng, and at nyght dyd make bonefyres and set tabulls in the strett, and ded ett and drynke and mad mere [made merry] for the newe quen Elsabeth, quen Mare('s) syster."2
It is not known what Mary died of but ambassador Christophe d'Assonleville wrote to Mary's husband, Philip II of Spain, on 7th November and mentioned how the queen had had some "good intervals", going on to say "and there have been days when she was free of the paroxysms from which she had suffered". He also wrote "the outcome of her illness is not yet certain. Indeed, the people make her out to be more dangerously ill than the doctors say".3 It appears that the people were right!
Click here to read more about Mary I's illness and death.
Mary had left instructions in her will for her mother's remains to be exhumed and brought to London so that mother and daughter could be buried together, but it was not to be. Catherine of Aragon's remains were left untouched at Peterborough and Mary was buried by herself at Westminster on 14th December 1558 "with only stones from demolished altars marking the spot where she was laid to rest."4 In 1606, in the reign of James I, Elizabeth I's remains were moved from their resting place in Henry VII's vault to join her sister Mary's remains. James I erected a monument bearing Elizabeth I's effigy, but not one of Mary, and the Latin inscription on the monument can be translated as:
"Partners both in throne and grave, here rest we two sisters, Elizabeth and Mary, in the hope of the Resurrection."
Mary I's Archbishop of Canterbury, Cardinal Reginald Pole, died on the very same day as Mary at Lambeth Palace in London. He had been ill since September 1558 but died after hearing news of Mary I's death. He lay in state at the palace for forty days before being buried at Becket's Corona in Canterbury Cathedral.
Following Mary's death, Sir Nicholas Throckmorton was dispatched to Hatfield to give Elizabeth the news and to give her Mary's ring as proof of her death. According to tradition, Elizabeth was sitting reading under an old oak tree in the parkland around Hatfield Place when she received the news. On hearing of her accession, the daughter of Henry VIII and Anne Boleyn is said to have sunk to her knees and uttered in Latin what translates to "This is the Lord's doing: it is marvellous in our eyes", from Psalm 118.
Sir John Harington, Elizabeth I's godson, has Elizabeth making a speech on hearing the news – click here to read that.
Elizabeth I reigned until her death on 24th March 1603.
Notes and Sources
Wriothesley, Charles. A Chronicle of England During the Reigns of the Tudors, from A.D. 1485 to 1559, Volume II, p. 141. Read online at https://archive.org/stream/achronicleengla02hamigoog#page/n147/mode/2up
Machyn, Henry. The Diary of Henry Machyn Citizen and Merchant-Taylor of London (1550-1563), Originally published by Camden Society, London, 1848, p. 169-184, available to read at http://www.british-history.ac.uk/camden-record-soc/vol42/pp169-184#fnn32
Calendar of State Papers, Spain, Volume 13, 1554-1558, 498.
Whitelock, Anna (2009) Mary Tudor: Princess, Bastard, Queen, Random House, p. XVII.