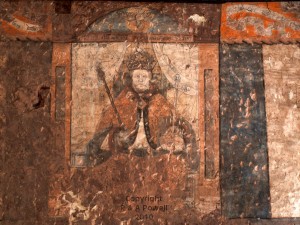 You may have read my post on Saturday about a 16th century mural of Henry VIII being found under plaster in Mr and Mrs Powell's home in Milverton, Somerset, well, Mr Rhodri Powell has been kind enough to share more information with us here at The Anne Boleyn Files and also send us a photo.
If you click on the photo you can see a larger image.
Here is the information from Rhodri:-
"A few points. The BBC report in particular has several errors. We weren't doing DIY – we had a conservation plasterer dealing with some 1950s gypsum skim that was coming loose – when this was removed, a small patch of render underneath fell off, revealing a bit of colour. The panelling was only removed to see if the mural went underneath it – it didn't. The mural is roughly life size, about 6ft high in total and part of a 20ft wide frieze that covers one wall. The date is speculative but based on his hairstyle – in 1528 he had long hair, but his 1536 portraits show him without any hair showing beneath his crown or hat. This picture shows him with ear-length hair. If the picture was done in 1532-3, this is at the end of Thomas Cranmer's time as Archdeacon of Taunton, shortly before his surprise appointment as Archbishop of Canterbury. There is however, no evidence that he ever visited Taunton, or even this house.
It was so unexpected, and it wasn't until the eyes appeared that we realised it was anything more than a bit of old wall decoration.
Why unexpected? Well I had found tiny bits of old hard plaster, some with hints of pigment, frustrating relics to show where an old wall painting had been. But we thought all the wall paintings had been destroyed in the great destructions of images that took place in the 1540s and 1650s. In fact, only the day before the discovery, I had mentioned this to our plasterer, so he was perhaps primed. Well, also, he was a proper conservation plasterer who had worked in the Tower of London, Windsor Castle etc so he knew what to look for.
First impressions were a few lines and a couple of scrappy oak leaves. But enough to set us uncovering the rest.
It seems likely that the painting was done to mark Henry's decision to take over the church, but he probably was never intended to see it – The clothes and crown and sumptuously drawn, with ermine and pearls and embroidery. But the portrayal is hardly flattering, slightly cross-eyed, with a double chin, floppy, petulant lower lip and his shirt rucked up beneath his pot belly. He has narrow sloping shoulders and stumpy little legs – hardly the tall, broad and burly figure that was usually portrayed.
And why, when, and on whose orders was it covered up? No idea, but whoever plastered it over hacked holes to make the plaster stick, but didn't damage the face, the orb or the sceptre…
We are setting up a website 'milvertonmural.com' with details of what we know and more pictures. With luck it will be up and running in the next week or two."
Thank you so much for the information, Rhodri, and for the photo. It is an amazing find!