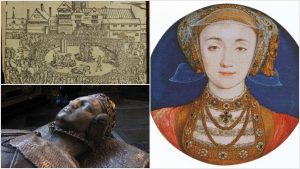 16th July was a busy day in Tudor history. Here are three events which happened on this day and links to read more about them:
1517 – Birth of Frances Grey (née Brandon), Duchess of Suffolk, at Hatfield. She was born on St Francis's Day and was the eldest daughter of Charles Brandon, Duke of Suffolk, and Mary Tudor, widow of Louis XII and sister of Henry VIII. Click here to read more about Frances.
1546 – The Protestant martyrs Anne Askew, John Lascelles, John Adams and Nicholas Belenian were burned at the stake at Smithfield in London for heresy. Click here for more information on them and the Newbury Martyrs who died on this day in 1556.
1557 – Death of Anne of Cleves, fourth wife of Henry VIII, at Chelsea Old Manor after a few months of illness. On the same day, her body was embalmed and placed in a coffin covered with a cloth bearing her arms. Tapers were lit around her coffin and prayers said on a daily basis. She was buried in Westminster Abbey on 4th August. Click here to read more.