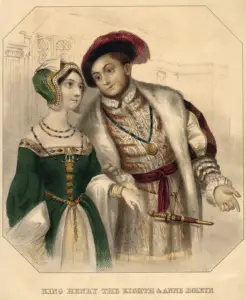 This day in history, 14th November 1532, the Feast of St Erkenwald, might just have been Henry VIII and Anne Boleyn's wedding day!
Chronicler Edward Hall can usually be trusted and according to him "The king, after his return [from Calais] married privily the lady Anne Boleyn on Saint Erkenwald's day, which marriage was kept so secret, that very few knew it, til she was great with child, at Easter after."
The couple had landed at Dover early that morning, having returned from meeting King Francis I in Calais to gain his support for their relationship. They then spent a few days in the Dover area before travelling back to London. They are recorded as arriving back at Eltham Palace on 24th November. Although the time Henry VIII and Anne Boleyn spent in Dover was said to be "for the purpose of having harbours constructed in the said town, or at least of creating a spacious plea for asking money from his subjects for the said works", it may have also acted as a bit of a honeymoon, some time together before returning to the bustle of the royal court.
Whatever happened on St Erkenwald's Day 1532, the couple began living together as man and wife from that point on and it was not long before Anne became pregnant. On 25th January 1533, the Feast of St Paul, Henry VIII and Anne Boleyn got married in a[another] secret ceremony at Whitehall Palace.
Was Edward Hall correct in his dating of their marriage? I believe so. For the couple to suddenly begin co-habiting, and therefore risking pregnancy, I think there must have been some kind of ceremony. What do you think?
Today is also the anniversary of the marriage of Henry VIII's brother, Arthur Tudor, Prince of Wales, and Catherine of Aragon, who obviously went on to become Henry VIII's first wife. Click here to read more.
Notes and Sources
Hall, Edward (1809) Hall's chronicle: containing the history of England, during the reign of Henry the Fourth, and the succeeding monarchs, to the end of the reign of Henry the Eighth, in which are particularly described the manners and customs of those periods. Carefully collated with the editions of 1548 and 1550, printed for J. Johnson; F.C. and J. Rivington; T. Payne; Wilkie and Robinson; Longman, Hurst, Rees and Orme; Cadell and Davies; and J. Mawman; London, p.794.
Calendar of State Papers, Spain, 1531-1533, p.556-557.
Ives, Eric (2004) The Life and Death of Anne Boleyn, p. 161, 170-171.