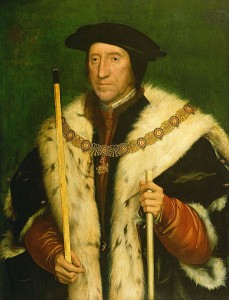 On this day in history, 26th October 1536, the rebels of the Pilgrimage of Grace halted at Scawsby Leys near Doncaster, where they met troops captained by Thomas Howard, 3rd Duke of Norfolk. The rebels were said to number around 30,000 and Norfolk's army was only a fifth of the size, but the rebel leader, lawyer Robert Aske, chose to negotiate.
A deal was eventually struck. Norfolk and others were able to report to the king on 28th October that "The lords and gentlemen who went from us yesterday to the commons at Pomfret have returned. They have declared your pardon and despatched them all to their houses." Chronicler Edward Hall recorded:
"Then, by the great wisdom and policy of the said captains, a communication was had, and a pardon of the kings Majesty obtained, for all the Captains and chief doers of this insurrection, and they promised that such things as they found themselves agreed with all they should gently be heard, and their reasonable petitions granted and that their articles should be presented to the kings Majesty, that by his highness authority, and wisdom of his Council, all things should be brought to good order and conclusion: and with this order every man quietly departed, and those which before were bent as hot as fire to fight, being letted thereof by God, went now peaceably to their houses, and were as cold as water."
Charles Wriothesley wrote of how the rebels had planned to fight the king's forces on the eve of the feast of St Simon and St Jude, 27th October, but "their fell such rain the night before they should have foughten, that they were so wet and their artillery that they could not draw their bows nor shoot", so, instead "at the request of the Duke of Norfolk, they desired him to sue to the king for their pardon […]".
Norfolk gave promises from Henry VIII that the rebels' demands would be met and that they would be pardoned. Robert Aske then dismissed his troops. In early December 1536, a proclamation was made to the rebels offering them a pardon and it was also said that a parliament would be held at York. Unfortunately, Henry VIII later broke his promises to the rebels.
You can see my timeline of the Pilgrimage of Grace rebellion here.
Notes and Sources
Letters and Papers, Foreign and Domestic, Henry VIII, Volume XI, 902.
Hall, Edward (1809) Hall's chronicle: containing the history of England, during the reign of Henry the Fourth, and the succeeding monarchs, to the end of the reign of Henry the Eighth, in which are particularly described the manners and customs of those periods., J. Johnson, p. 823.
Wriothesley, Charles (1875) A chronicle of England during the reigns of the Tudors, from A. D. 1485-1559, Camden Society, p. 57-58.