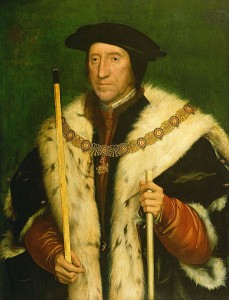 On 12th May 1536, a patent was issued appointing Thomas Howard, 3rd Duke of Norfolk, as Lord High Steward of England for the forthcoming trials of Queen Anne Boleyn and George Boleyn, Lord Rochford. He had served in that position before, at the trial of Lord Dacre in June 1534.
Norfolk was the siblings' uncle, being the brother of Elizabeth Boleyn, but his position as Lord High Steward meant that he was to represent the king and had to put family loyalty to one side.
Norfolk was a prominent Tudor politician, nobleman and soldier. He succeeded his father as Duke of Norfolk in 1524 and became one of Henry VIII's leading councillors after the fall of Cardinal Wolsey. He was made Earl Marshal of England in 1533. After acting as Lord Steward at the trials of Anne and George Boleyn, Norfolk went on to be godfather to Edward VI at his christening in October 1537 and a commissioner at Queen Jane Seymour's funeral in November 1537. In 1539, he was chosen to go with the Duke of Suffolk to meet Anne of Cleves at her arrival at Dover. In 1540, during Cromwell's arrest in the council chamber, it was said that Norfolk tore the St George from around Cromwell's neck; certainly, he was very much involved in the plot against Cromwell. When the King's anger turned on the Howard family after Catherine Howard's adultery, Norfolk was fortunate in escaping punishment. He went on to serve the King in the war against the Scots in 1542 but his pro-French stance caused him problems when the King became keen to go to war with France. He served the King in France as lieutenant-general of the army, besieging Montreuil, but was rebuked by the King when he withdrew.
On 12th December 1546, Norfolk and his son, Henry Howard, Earl of Surrey, were arrested and imprisoned in the Tower of London after it was alleged that Surrey had displayed the royal arms and insignia in his own heraldry. Surrey was found guilty of treason on 13th January 1547 at a common inquest at Guildhall and Norfolk was attainted on 27th January. Both were sentenced to death and Surrey was executed on 19th January 1547. Norfolk was lucky; the King died before the former's scheduled execution date. As a consequence, in 1553, Norfolk was released and pardoned by Mary I, and died naturally at Kenninghall on 25th August 1554. He was laid to rest in St Michael's Church, Framlingham.
Notes and Sources
Biography taken from The Fall of Anne Boleyn: A Countdown.