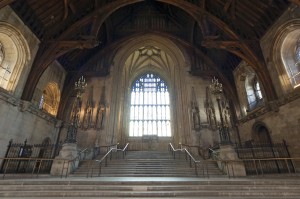 On 12th May 1536, Sir William Kingston, Constable of the Tower of London, escorted Sir Henry Norris, William Brereton, Mark Smeaton and Sir Francis Weston by barge from the Tower of London to Westminster.
The four men were brought before a special commission of oyer and terminer at Westminster Hall and arraigned for high treason. Smeaton pleaded "guilty", while the other men pleaded "not guilty". They were tried separately from Anne Boleyn and George Boleyn, Lord Rochford, who, as members of the aristocracy, were entitled to be tried in the court of the Lord High Steward of England by a jury of their peers. Their trials were to take place on 15th May 1536.
Click here to find out more about the jury members, who can only be described as "hostile", and the trial itself.