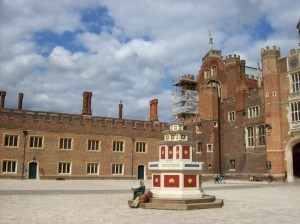 On 10th May 1536, Sir William Kingston, Constable of the Tower of London, was ordered "to bring up the bodies of Sir Francis Weston, knt. Henry Noreys, esq. William Bryerton, esq. and Mark Smeton, gent." for trial at Westminster on 12th May.
These four men, as commoners, were going to be tried by a special commission of oyer and terminer, whereas the Queen and her brother George Boleyn were going to be tried by a jury of their peers.
It is not known whether this message was sent to Sir William Kingston before the Grand Jury of Middlesex met that same day to rule on whether there was sufficient evidence to suggest that Anne Boleyn and the men were guilty of the alleged crimes carried out at Hampton Court Palace and Whitehall, and that they should be indicted and sent to trial, but it was certainly sent out before the meeting of the Grand Jury in Kent.
You can read all about the meeting of the Grand Jury of Middlesex and the indictment they drew up in my article 10 May 1536 – The Middlesex Indictment.
Also on this day in history…
Three years earlier, on 10th May 1533, a special court at Dunstable was opened by Archbishop Cranmer to rule on the validity of the marriage of Henry VIII and Catherine of Aragon. On 23rd May, Cranmer's court ruled that the marriage between Henry VIII and Catherine of Aragon was against the will of God, and declared that the marriage was null and void. On 28th May 1533, Cranmer proclaimed the validity of Henry VIII's marriage to Anne Boleyn after a special enquiry at Lambeth Palace.
Notes and Sources
Wriothesley, Charles. A Chronicle of England During the Reigns of the Tudors, from A.D. 1485 to 1559, 201, Appendix, Baga de Secretis Pouch VIII.