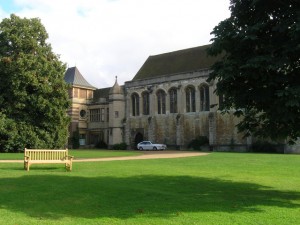 On 11th May 1536, the Grand Jury of Kent met at Deptford in front of Sir John Baldwin (Chief Justice of the Common Pleas), Sir Walter Luke and five other Justices to rule on the alleged crimes of Queen Anne Boleyn, Sir Henry Norris, Sir William Brereton, Sir Francis Weston, George Boleyn (Lord Rochford) and Mark Smeaton committed at Greenwich Palace, East Greenwich and Eltham Palace.
Unsurprisingly, following the decision of the Middlesex jury the previous day, the Grand Jury of Kent decided that there was sufficient evidence for Anne and the men to be tried for their crimes.
You can find out all about the jury members and the salcious details of the indictment in my article from last year – 11 May 1536 – The Kent Indictment.