Posted By Claire on May 9, 2014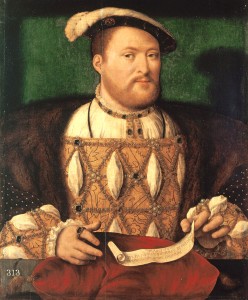 On Tuesday 9th May 1536, Henry VIII sent a message to Thomas Cromwell "commanding him to repair to the King to treat of matters relating to the surety of his person, his honor, and the tranquillity of the realm". The King also organised a council meeting for that day. Those men summoned to attend included the Dukes of Norfolk and Suffolk; the Earls of Oxford, Arundel, Westmoreland, Essex, Derby, Worcester, Sussex and Huntingdon; Lords Lawarre, Awdeley, Montague, Matravers, Morley, Cobbeham, Clynton, Powes, Sandes, Wyndesor, and Mordaunt; the Marquis of Exeter and "divers lords" such as Sir Athony Browne, Sir John Russell, Sir William Kingston and Sir John Dudley.
In the meantime, the Justices of the King's Bench were sending orders to the sheriffs of London to assemble a grand jury at Westminster on 10th May to rule on offences alleged to have taken place in Middlesex (at Whitehall and Hampton Court Palace). The Baga de Secretis lists forty-eight members of the jury and these can be read in my article 9 May 1536 – Meetings and Legal Proceedings.
Notes and Sources