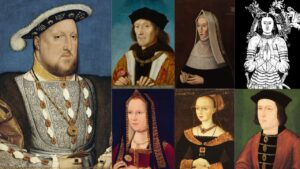 Yes, I'm going live again this Saturday, 4th March 2023, on the Anne Boleyn Files and Tudor Society YouTube Channel.
In this livestream, which is part of a series I'm doing on King Henry VIII, the second Tudor monarch, I'll be exploring the family background of Henry VIII and how the Tudors actually came to the throne of England.
I'll be going live at 9pm UK time / 4pm New York time. You can convert that time to your particular time zone at https://www.timeanddate.com/worldclock/converter.html
I do hope you can join me! These livestreams are always good fun.
The link for the livestream is https://youtube.com/live/UQAFheEjtjk?feature=share
**Alert!** – There are just 14 places left for my online event "Henry VIII and His Six Wives"! The event officially starts in May, but we have regular zoom discussions leading up to this, including one this Sunday on Anne Boleyn. Register now at https://claireridgway.com/events/henry-viii-2023/