Posted By Claire on June 3, 2016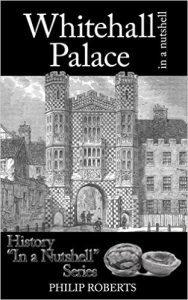 Congratulations to my fellow MadeGlobal author Philip Roberts on the release of his first book, Whitehall Palace in a Nutshell! I wish him lots of success with this great little book.
Whitehall Palace was, of course, the building that Henry VIII and Anne Boleyn renovated together and was the setting of their marriage and also the marriage of Henry VIII and Jane Seymour. It has a fascinating history.
Here are all the details of the book:
MadeGlobal's History in a Nutshell Series aims to give readers a good grounding in a historical topic in a concise, easily digestible and easily accessible way.
In Whitehall Palace in a Nutshell, researcher and author Philip Roberts delves into the history of England's most important and significant lost building, a palace which had 2,000 rooms and covered 23 acres in its heyday.
Using his unprecedented connections, Philip has been able to gain access to the historical places in Whitehall Palace which still exist today, many of which are not open to public access.
Philip Roberts, a member of the Mary Rose Trust Information Group Team for well over 20 years, has a passion for Tudor re-enactment and educating people about history.
Paperback: 90 pages
Publisher: MadeGlobal Publishing; 1 edition (June 2, 2016)
Language: English
ISBN-10: 8494489356
ISBN-13: 978-8494489358
Kindle ASIN: B01GGCYXMQ
Whitehall Palace in a Nutshell is available as a kindle book from Amazon.com, Amazon.co.uk and other Amazon sites, and as a paperback from Amazon.com, Amazon.co.uk, other Amazon sites, or your usual bookstore.
Phil is one of 19 authors you can meet at "An evening with the authors" in London on 24th September 2016 and I'll be there too! I'd love to meet you. Find out more at https://www.madeglobal.com/evening-authors-24-september-2016/