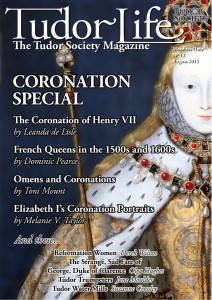 The August edition of Tudor Life magazine, the monthly magazine of the Tudor Society, is out now and includes a coronation special and guest articles by Derek Wilson, Leanda de Lisle, Dominic Pearce and Toni Mount, as well as all our regular contributors.
You can enjoy a taster of the magazine, which includes Derek Wilson's wonderful article on "Reformation Women", on the Tudor Society website right now – click here – and members can, of course, enjoy the whole magazine.
The Tudor Society also has a new-look home page – https://www.tudorsociety.com/ so do check it out and find out about all the benefits of membership. We have two guest speakers lined up for August – authors Livi Michael and Susan Higginbotham – and there are the usual weekly video talks, quizzes and articles to enjoy too. I hope to see you over there!