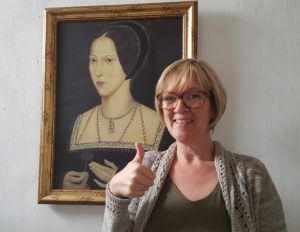 Here in Spain, we're on lockdown. We're well, everything is fine, but it's just a bit weird, Suddenly, even though I usually work from home, run on my treadmill and don't go out a huge amount, I'm desperate to leave the house. Oh well! Desperate times and all that…
I'm conscious of the fact that some people are finding lockdown and self-isolation difficult, so I've got some goodies for you. I do enjoy playing the Tudor history fairy!
The Anne Boleyn Files site – There are 11 years of articles on here and they're all completely free so please do have a browse. There are also resources like our Primary Sources page.
The Anne Boleyn Files and YouTube Channel – A year and three months of "on this day in Tudor history" videos are there for you to enjoy, along with Teasel's Tudor Trivia videos, the Questions about Anne Boleyn series, the Fall of Anne Boleyn countdown series, and lots more. All completely free. They should keep you going for quite a while.
The Tudor Society – I founded the Tudor Society back in 2014 as a way of bringing together history lovers from all over the world and giving them access to Tudor history experts. We have archives of expert talks, monthly magazines, weekly video talks, virtual tours of historic places, ebooks, resources, articles, quizzes, ebooks, articles and resources etc. going back to 2014. AND, there's a 14-day free trial – click here, which can be cancelled before any payment is due if you find, for some reason, that it's not for you. Browse for 14 days and enjoy.
99p/99c books – Three of my books, The Anne Boleyn Collection III, The Fall of Anne Boleyn: A Countdown, and On This Day in Tudor History, are Kindle Countdown deals at the moment. They're priced at 99p/99c on Amazon UK and Amazon.com from now until midnight on 25th March. Grab them while you can. You can find them on my Amazon author pages – click here to see it in your country. My other books are very cheap on kindle too, and if you don't have a kindle, don't worry, Amazon have a free kindle reading app for mobile devices, tablets and computers.
George Boleyn: Tudor Poet, Courtier and Diplomat, written by me and Clare Cherry, will be available on kindle at 99p/99c from 21 March to 27 March.
MadeGlobal Books – All of my publisher MadeGlobal's books are excellent value as kindle books and are available on the Kindle Owners' Lending Library and Kindle Unlimited. Why not sign up for a free trial of Kindle Unlimited while you're at home? It's perfect for us bookworms! Authors include Toni Mount, Adrienne Dillard, Gareth Russell, Sean Poage, Seamus O'Caellaigh, Roland Hui, Debra Bayani, Sandra Vasoli, Derek Wilson, Clare Cherry, Loretta Goldeberg… Lots! See MadeGlobal's website for the list of authors.
Free colourings – My publisher, MadeGlobal, has published four colouring books – The Life of Anne Boleyn Colouring Book (I wrote the text for that one), The Wars of the Roses Colouring Book, The Mary Queen of Scots Colouring Book, and The Tudor Colouring Book, and you can download and print out a colouring page from each of them by right clicking on the images of the pages below.
50% off history courses – MedievalCourses.com have a special sale at the moment (from now until the end of 25 March) offering 50% off each and every one of their history courses. The courses are all completely online, with no set start or end dates, and include medieval courses, courses on Tudor times, Tudor women, Henry VIII's six wives, Anne Boleyn, the Medicis, the Borgias, the Reformation, Richard III…. and all by experts in the field (Toni Mount, Samanthan Morris, Gareth Russell, and Yours Truly!). Lots to get stuck into! Simply go to https://medievalcourses.com/overview/, browse the courses and buy as many as you like. Use coupon code HAPPY at checkout to get 50% off from now until the end of 25th March. Everyone anywhere in the world can do them.
By the way, the videos I make for the Anne Boleyn Files and Tudor Society YouTube channel are also available as podcasts – click here.
And it's also time to share the Tudor history love! There are lots of wonderful history resources from other historians and authors, including:
Apologies to anyone I've missed out, it wasn't intentional! Please do add any resources you've found useful in the comments section below.