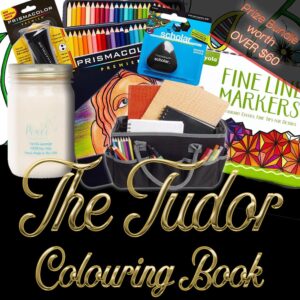 My fellow MadeGlobal Publishing author seventeen-year-old Ainhoa Módenes is so excited because her first book, The Tudor Colouring Book is being released tomorrow (29th September). I may be biased (well, ok, I totally am!) because I know Ainhoa well and I wrote the foreword for her book, but I think it's a lovely book.
Ainhoa loves mandala patterns and when I showed her patterns from Tudor heraldry, blackwork, embroidery and architecture she was inspired to combine them. I can't wait to get colouring my copy!
To celebrate the release of Ainhoa's book, MadeGlobal Publishing is running a colouring competition. You can click here to read the rules and find out more about the book, and there's a great prize on offer. Ainhoa and I are two of the judges and although I am usually swayed by offers of chocolate and wine, I cannot be bribed!