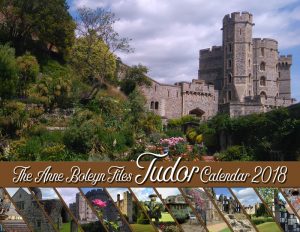 It's here! The Anne Boleyn Files Tudor Calendar 2018 is available right now to order from Lulu.com.
Here's the blurb:
"Enjoy these wonderful winning photos from The Anne Boleyn Files calendar competition in this stunning 2018 wall calendar.
This unique and unusual calendar contains photos of Montacute House, Haddon Hall, Kilkenny Castle, Hever Castle, Rowley's Farm, Kinloss Abbey, Hampton Court Palace, Pystern House, Whitby Abbey and Windsor Castle… plenty to keep you happy throughout the year. The calendar also has information about the births, deaths and important battles that took place during the Tudor period.
This high quality Tudor calendar measures 11 inches by 17 inches when open, it is spiral bound in the middle and is printed on thick 100# gloss stock paper.
As well as enjoying this calendar yourself, why not get one for your Tudor-loving friends too?"
It costs $10.99/£9.75/8.82€/AU$14.22 and can be shipped worldwide (prices vary according to currency and tax). Click here to order now – you can change the country of the Lulu store by going to the flag at the top right of the Lulu webpage and shipping is worldwide.
And now for the winners…
Congratulations to Alison Ratcliffe who is the overall winner with her beautiful photo of Windsor Castle. She wins a $50 Amazon gift certificate (or equivalent). The runner-up prize of a $25 Amazon gift certificate goes to Bethany Cattell for her lovely photo of the Henry VIII topiary in Hampton Court Palace gardens. Other winners whose photos appear in the calendar are Cliff Barry, Carol-Ann Johnston, Dawn Hatswell, Ian Mulcahy, Jemma Robertson, Natalia Richards and Snezana Brankov. Congratulations to all of them, they really are stunning photos.
Here is a video showing all the winning photos:
and here is a sample month so you can see the layout.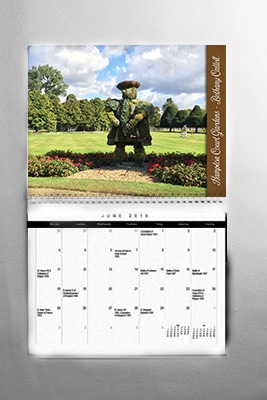 You can see further images if you click "Preview" under the product photo at http://www.lulu.com/shop/the-anne-boleyn-files/the-anne-boleyn-files-tudor-calendar-2018/calendar/product-23338691.html