The Anne of Cleves cake
Posted By Claire on September 7, 2017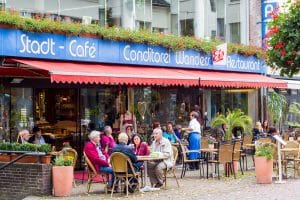 Since Lucy Worsley's series on Henry VIII's six wives aired, I've been inundated with emails asking me if I know anything about the Anne of Cleves cake, or Anna von Kleve Torte, that Lucy enjoyed in Kleve which she said was baked in honour of Anne of Cleves.
You can see a photo of Lucy and the cake at http://www.lokalkompass.de/kleve/leute/bbc-auf-den-spuren-von-anna-von-kleve-m3535780,670277.html.
I was just as intrigued about this cake as other viewers as I hadn't heard of it and I even emailed the cafe concerned, but with no response.
However, I did keep digging and I found a discussion thread on Baking Forums about the cake. This was a Godsend as forum users had shared links about the cake. It turns out that it isn't historical at all, it's not something that has been baked for centuries in honour of Anne of Cleves. The recipe was actually created in 2015 to commemorate the 500th anniversary of Anne of Cleves' birth.
In an article about the cafe, cake and the 500th anniversary, Margareth Wanders from Stadt-Cafe Wanders explains that they wanted to combine craftsmanship with history and so they made this buttercream cake and also designed chocolates featuring Anne's portrait and printed leaflets giving historical information (I think that's what the articles says!). On the thread in Baking Forums, a user described the cake as "a buttercream cake consisting of a nut bottom, dark chocolate, a layer of cherries, a layer of buttercream (or cream in summer) and chocolate splitters on top.". It sounds delcious even if it's not at all historical.
It doesn't feature on the cafe website or in their cake selection – see http://www.cafe-wanders.de/conditorei/ for some beautiful cakes – so I assume that they made it especially for that event and then for Lucy and the BBC crew. I don't know.
If any of you try to recreate it from that description then do let me know, or invite me round so I can check just how close it is to the one Lucy tried!
Thank you to all those who emailed me or commented about the cake here on the Anne Boleyn Files or on our Facebook page.
Sources