To Die For Competition Results!
Posted By Claire on August 26, 2011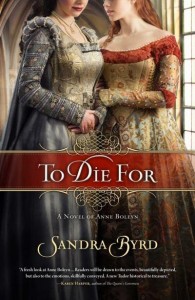 Thank you so much to everyone who took the time and effort to enter our "To Die For" article competition, we had 32 entries in all!
As usual, the judges had a really hard time choosing an overall winner and four runners-up because all of the entries were of a high standard, and I'm not just saying that! Everyone deserves a big round of applause – clap, clap, clap – and a pat on the back. Well done!
The overall winner is Nancy Smith whose article "Lady Jane and Me" really touched the judges. Nancy really expressed why Lady Jane Grey was important to her personally, as well as giving information about her life. Well done, Nancy, I'll be in touch with you regarding your $50 Anne Boleyn Files coupon and "To Die For" book.
There were also four runners-up who all win copies of Sandra Byrd's "To Die For: A Novel of Anne Boleyn", which is a wonderful novel, so I'm sure you'll all enjoy it. The runners-up are:-
Thanks also to Sandra Byrd, author of "To Die For" for sponsoring the $50 coupon and giving away these copies of her book! You can read my review of "To Die For" at
Tudor Book Reviews
Please can winners email their addresses to me at claire@theanneboleynfiles.com – thanks!