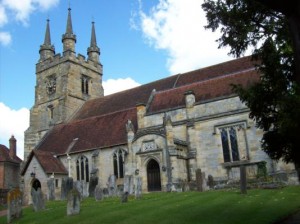 You may remember my post a few weeks ago about Thomas Boleyn the Younger, brother of Anne Boleyn and the infant Boleyn buried at St John the Baptist Church, Penshurst. In that post I explained that author and historian Alison Weir was claiming in her latest book, "Mary Boleyn: The Great and Infamous Whore" (Mary Boleyn: The Mistress of Kings in the US), that this Boleyn brother actually did not die in infancy but actually lived until adulthood and died in 1520.
Weir based her conclusion on the following evidence:-
Thomas's tomb is "marked by a cross and the date 1520".
He was named after his father and grandfather and therefore must have been the eldest son
Now, as I explained before, I was very puzzled about this conclusion as I have always believed that Thomas's tomb was that of an infant, just like his brother Henry Boleyn's at St Peter's Church, Hever, which is also a tiny tomb marked by a simple cross. As someone who is researching the Boleyns on a daily basis for The Anne Boleyn Files and my book, I just couldn't let this rest, so, I made it my mission to find out more about these lost Boleyns.
Mission Lost Boleyns
The first step in Mission Lost Boleyns was to get the help of my friend, Clare Cherry, who has written a book on George Boleyn. All of this blew up while I was on The Anne Boleyn Experience in July and Clare was one of the participants on this tour. Clare and her trusty sidekick, David, had told me that they were visiting Penshurst Place after the tour, so I asked if they would be interested in visiting St John the Baptist Church at Penshurst with Tim (my trusty sidekick) and I, to do some digging. I knew Clare would be excited about this and she agreed, off we went to Penshurst…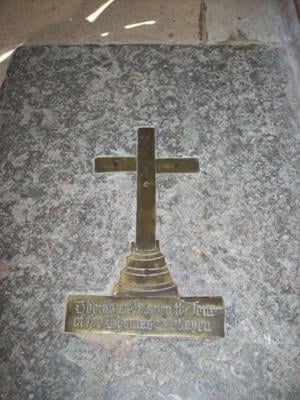 In the beautiful village church, just outside Penshurst Place, Clare, David, Tim and I, visited the tomb of little Thomas Boleyn in the Sidney Chapel. It was very moving to see this tiny, and very simple, tomb (see above) amongst all the large and lavish tombs of the Sidney family and to pay our respects to a Boleyn who is often forgotten. After we had paid our respects, Clare and I got down on our hands and knees to examine the brass cross, the inscription and surrounding stone work. What we found, and you can see this in my photos, is a very simple and plain brass cross inscribed with "Thomas Bwllayen the sone of Sir Thomas Bwllayen". No date, no other information, just that. We took photos and then I turned to the church information table which had a guide book on the church. I purchased it, flicked through it on the spot and read out the following to my fellow investigators:-
"The most important memorials found in the Sidney Chapel include… A cross to Thomas Bullayen, infant brother of Anne Boleyn, who died in 1520…"
Hmmm… Clare and I looked at each other "Where did they get that date from?" was the obvious question, so Mission Lost Boleyns continued with the following investigations being undertaken:-
Email to Alison Weir – Ask her what she bases the 1520 death date on as the tomb is not marked with a date
Contact author of the church guide book re 1520 death date
Research Parish Records for Thomas Boleyn's death date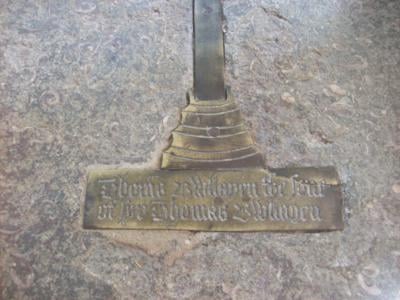 Results of Initial Investigations
Alison Weir – Alison Weir emailed me straight back saying "There is a record of the date of the brass in the Ashmolean Museum, the same as in the church leaflet." I then did some digging in the Ashmolean Museum's onoline records of monumental brasses and found that Henry Boleyn's brass cross was also dated 1520. I emailed her back saying that I wondered if the records referred to the date that the brasses were actually made and put on the tomb, rather than the date of death. Alison replied that Henry Boleyn's tomb was "so tiny that I think he must have been an infant".
David Lough, author of Guide Book – Clare managed to track down David Lough, author of the church guide book, to ask about the 1520 date and he explained that the current guide book was based on an older guide book and he could not remember where the 1520 date came from but that "there are arguments for thinking it might have been 1521. In that year àctually 1522], Sir Tomas Bwllayen was appointed Keeper of Penshurst Place by Henry VIII following the property's reversion to the Crown after the execution for treason of its previous owner, the Duke of Buckingham. According to 'Penshurst Church: the Hidden History', J.A Flower (private paper, 2004), It seems likely that the infant Thomas fell ill during one of his father's visits as Keeper, to Penshurst Place from his own nearby Hever Castle." He admitted that Clare probably knew far more about the Boleyns than he did!
Parish Records – Unfortunately, Clare found that these only went back as far as 1558, so they were not any help.
All this was very interesting but it left us with more questions rather than answers! I was puzzled that Alison Weir was claiming that Thomas Boleyn the Younger's tomb was that of an adult yet saying that Henry Boleyn's at Hever, which was identical in size and design, was that of an infant. On the other hand, Clare and I were also both bemused by the idea that Elizabeth Boleyn was still producing babies c1520 at the age of around 40. None of it made sense. More digging was required.
I went back to the Ashmolean records and used their bibliography and list of sources for monumental brasses to find records of Thomas Boleyn the Younger's brass. In "A List of Monumental Brasses in the British Isles" by Mill Stephenson (1926), which was based on older, 19th century records, I found the following:-
Penshurst – "Sm. cross (partly restored) and inscr. to Thos., son of Sir Thos. Bwllayen, c.1520"
Hever – "Sm. cross (restored) and inscr. to Hen., son of Sir Thos. Bwllayen, c.1520. At Penshurst is a similar memorial to Thos., another son of Sir Thos. Bullen."
In another book, W D Belcher's "Kentish Brasses" Vol I (1888), it said of the Penshurst brass: "Small cross with inscription for Thomas Bullayen, son of Sir Thomas Bullen" and had a drawing of the brass cross and inscription.
So, c.1520 was the date given to both brass crosses, at Hever and Penshurst. Surely the boys didn't die in the same year? This made us wonder if the brass crosses were placed on the tombs at a later date, perhaps when the family had the means and inclination to mark these tombs in a fitting manner. In times when infant mortality was very high, it would not have been unusual, I feel, for these tombs to have been unmarked for a few years.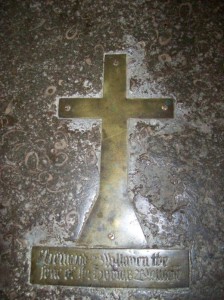 After all this digging, Mission Lost Boleyns seemed to come to a standstill. Clare and I concluded that the size and style of the tombs suggested that Thomas and Henry Boleyn were indeed infants and that the "c.1520" date was the date of the brasses rather than the date of the death. The fact that Thomas Boleyn the Younger was buried at Penshurst, rather than Hever, had been bothering us but Clare wondered if the renovation work that Thomas Boleyn carried out on Hever, after he inherited it in 1505, forced the family to stay with their friend and relative the Duke of Buckingham at nearby Penshurst. Perhaps little Thomas died while they were staying there, we just don't know.
You may be wondering why I'm telling you all of this when it has been a few weeks since I published my articles on Thomas Boleyn's tomb. Well, Clare found mention of this controversy on Alison Weir's website. On her page about her latest book on Mary Boleyn, Alison Weir says:-
"In this book, I state that Mary's brother, Thomas Boleyn, was buried in Penshurst Church, and that his tomb is marked by a brass cross and the date 1520. I obtained that date from three sources: a book on Penshurst village compiled by local archivist John Flower, which stated that the brass to 'Thomas Bullayen' was dated 1520; Penshurst Church's own leaflet, which also gives the date 1520; and from the Ashmolean Museum's website, where the museum's rubbings of monumental brasses are listed. I also had a photo of the brass, but cannot read the inscription itself, as it is unclear. Corroboration of the date by the three sources above, which one might expect to be reliable, and which would normally be sufficient evidence on which to base a theory, gave me little cause to doubt that the information about the date was correct. But one person has emailed me recently to say that there is no date on the brass."
She then goes on to explain that she then did further research, after the one person emailed her (that's me!), asking the vicar of Penshurst to check the brass for a date and to find out where the church got the 1520 date from. Rev. Tom Home informed Weir that there was no date on the brass but that "the late John Flower surmised that this Thomas Boleyn was born at Penshurst after his father, Sir Thomas Boleyn, became Keeper". Weir then dismissed that line of argument because "this was not until April 1522, so that theory cannot be correct."
Interestingly, Weir then concludes that the brass must date after June 1509 because it describes Thomas Boleyn the Younger as son of "Sir" Thomas Boleyn and Thomas Boleyn the Elder was not knighted until June 1509. She goes on to say
"Brasses were often small, even for adults, so the size of this brass does not necessarily indicate that Thomas Boleyn died in infancy. Indeed, he is likely to have been the eldest son, and if he was the son who went to Oxford University at 17, then he must have been born in the mid-to-late 1490s. After studying at Oxford, it is possible that he entered the household of the Duke of Buckingham, which might explain his burial at Penshurst. Buckingham, of course, was executed in 1521."
Weir also states that she contacted the Ashmolean Museum to find out their source for the date:-
"Dr Eleanor Standley, Lecturer and Assistant Keeper of Medieval Archaeology, Institute of Archaeology/ Department of Antiquities, Ashmolean Museum, University of Oxford, has kindly stated her belief that the brass has been dated on stylistic grounds to c.1520. In John Page Phillips' Macklin's Monumental Brasses (1969) the date is given as c.1520 as well, but Dr Standley does not know where this information came from. She is going to try and find some more information about this brass, and will get back to me as soon as she can."
As for Henry Boleyn:-
"A cross marks the undated brass of Thomas's brother Henry in Hever Church, which has also been dated, probably on stylistic grounds, to 1520. It is, of course, possible that both boys lived into early manhood. Two cross brasses of similar date might indicate that they died around the same time."
Now, visitors to The Anne Boleyn Files over the past two and a half years know that I don't participate in author/historian bashing and that I am always respectful of them, no matter how much I disagree with them (à la G W Bernard!). However, I am finding it hard to take Alison Weir seriously on this matter. Here are the reasons why I have lost a little of my former respect for her:-
Weir came out with a controversial and ground-breaking theory, i.e. that Thomas Boleyn the Younger died as an adult in 1520, in a book, citing evidence that is now proven to be suspect. The tomb is NOT marked 1520 and no sources seem to be able to explain the c.1520 dating of the cross.
She relied on two books and a photo of the brass, rather than visiting the tomb. She admits that her photo of the inscription was unclear – A bit risky to base a new theory on something you haven't seen methinks.
She has changed her mind about the relevance of the size of the tombs – In an email to me she remarked that Henry Boleyn's tomb was "so tiny that I think he must have been an infant", yet then argues that both boys could have been adults after she realised that both tombs and brasses are the same size.
Weir's justification of the 1520 death date for an adult Thomas Boleyn – That he was born in the mid to late 1490s and that after studying at Oxford he may have entered the household of the Duke of Buckingham. She does use "he is likely to have", "if" and "it is possible", but this is pure supposition.
It is believed that Elizabeth and Thomas Boleyn married 1498/1499, and not before. Eric Ives states that "Elizabeth Howard's jointure was settled on her in the summer of 1501, which suggests that it was relatively recent – say not before 1498" and goes on to suggest that Mary was born c1499, Anne in 1501 and George c1504. I believe that Thomas and Henry Boleyn were born between Anne and George, or Thomas possibly between Mary and Anne.
As for the whole Oxford issue, it has been said that George Boleyn attended Oxford University, but there are no records to confirm his attendance there or that of another Boleyn sibling, as far as I know. What I do know, from my research into the Boleyns, is that Thomas Boleyn the Younger is not mentioned in the records and surely, as the son of a rising star at court, he'd be mentioned if he hadn't died in infancy. There is a "Master Bollyn" recorded as taking part in the Christmas festivities of 1514 with his father, Sir Thomas Boleyn, but this is thought to refer to George and it is only George who is mentioned in later records. Surely a son born in the mid to late 1490s who joined the Duke of Buckingham's household would be mentioned?
The 1509 Sir Thomas Boleyn argument – Weir argues that the tombs must date to after 1509 because the inscriptions refer to "Sir" Thomas Boleyn as their father. This can be explained by the brasses being placed on the tombs later, it does not mean that the boys died after 1509.
I didn't hear anything further from Alison Weir – When people point out an error that I have made in my work or a theory that just isn't backed up by the evidence then I thank them and share with them anything else that I find on the issue. I am disappointed that Alison Weir refers to me on her website as "one person" who informed her about the lack of a date on the tomb and just wrote the article you see on her website without sharing anything with me. Perhaps I expected too much, but I didn't have to email her regarding my visit to the tomb.
Please believe me when I say that I have not written this to discredit Alison Weir's work or her reputation in any way, I just cannot agree with her theory on Thomas and Henry Boleyn and her subsequent justification of it. I'm puzzled, bemused and a little cross about the whole thing. This website is all about "the real truth" about Anne Boleyn and that includes her family. What Weir has written as fact is actually supposition and I cannot support it.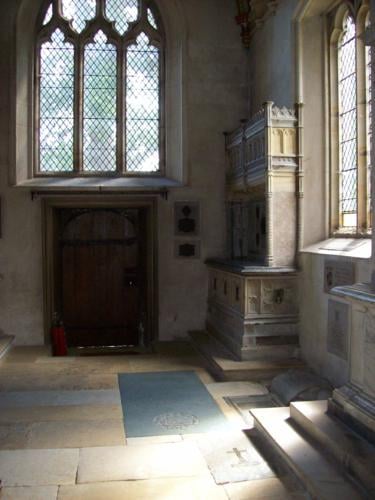 These lost Boleyns are still lost, in that they are still a mystery in my eyes. There is no date on their tombs, they are not named in any records or contemporary sources, the date given in records of monumental brasses is CIRCA 1520 and also refers to the brasses not the tombs, and the trail has gone dead for the time being. We can have opinions about these boys but they are just that, opinions. I will carry on believing that those simple, tiny tombs at Hever and Penshurst belong to the little Boleyns who died young but fortunately escaped being brought down so brutally with their sister and brother in 1536.
RIP Thomas and Henry Boleyn, the lost Boleyns.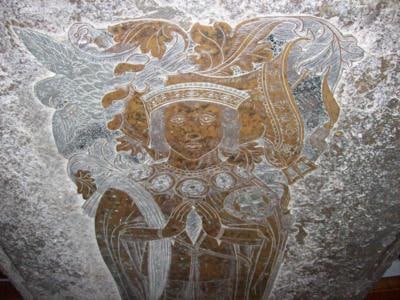 Notes and Sources
"THOMAS BULLAYEN" – BRASS IN THE SIDNEY CHAPEL, PENSHURST CHURCH, on Alison Weir's website
The Life and Death of Anne Boleyn, Eric Ives, p10, 14 and 17
LP ii. REVEL ACCOUNTS NO.7
The brains and research of Clare Cherry and Claire Ridgway, with the support of David and Tim!
2011 Guide and History, Church of St John the Baptist, Penshurst, by David Lough
The Department of Antiquities: Monumental Brasses, Ashmolean Museum
A List of Monumental Brasses in the British Isles (1926) by Mill Stephenson
Kentish Brasses by W D Belcher (1888)
Mary Boleyn: The Mistress of Kings by Alison Weir
The Other Boleyn Boy – Did a Fourth Boleyn Sibling Survive to Maturity?, Natalie Grueninger