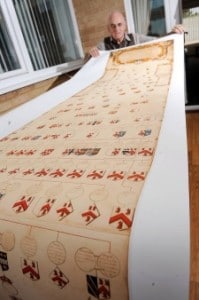 Thank you so much to Chris Wimsett for letting me know about this news report about an ancient scroll which charts seven centuries of Tilney (or Tylney) family history.
This scroll, which is set to go on display in Tilney All Saints Church in Norfolk, records the Tilney family from 1097 to 1740 and was found by Tilney All Saints Local History Group in the Norfolk Record Office in Norwich. What a find!
The scroll is going to be unveiled at 2.30pm on 26th September when a talk will be given on the history of the scroll by county archivist Dr John Alban.
You can see photos of the scroll at http://www.elystandard.co.uk/news/the_incredible_tilney_scroll_1_1510714?storyId=1.1510715.1347270671. You can also read the full news report at Ancient scroll charts seven centuries of family history in part of Fenland
Why am I telling you this?
Well, Anne Boleyn's maternal grandmother was Elizabeth Tilney, only child of Sir Frederick Tilney, of Ashwellthorpe, Norfolk, so the Tilney family are Anne's ancestors, and of course also Elizabeth I's ancestors.