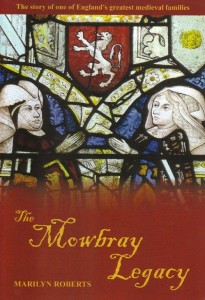 How very strange that the news item about the Tilney scroll has come up just as I am finishing a short article I thought Claire might be able to use sometime on Elizabeth Tilney, grandmother of both Anne Boleyn and Katherine Howard. Thank you, Claire, for bringing this wonderful find to our attention.
When The Mowbray Legacy was first published in 2004, I chose for the cover a photograph of the 'duchess' window in Long Melford Church in Suffolk, partly because I love the window, but mainly because we see on the left the old medieval dynasty represented by the last Mowbray Duchess of Norfolk giving way to their successors the Howards, represented by Elizabeth Tilney, Countess of Surrey who, had she lived long enough, would have become a Howard Duchess of Norfolk.
Elizabeth Tilney was the first wife of Mowbray descendant Thomas Howard, the second Howard Duke of Norfolk, hero of the battle of Flodden, but she died Countess of Surrey, as the dukedom forfeit after Bosworth was not reinstated until after her death. At Bosworth, the badly wounded Thomas had begged Sir Gilbert Talbot to offer him an honourable death at the hands of another nobleman by finishing him off. Talbot refused, and Thomas was taken prisoner, incarcerated in the Tower and attainted by the new Tudor dynasty for having supported Richard III, which meant he forfeited all titles and property and was prohibited from inheriting from anyone else. These were terrible times for the Howards, as in this case the attainder applied to the whole family, and although Elizabeth Tilney had assets of her own, life for her and her many children would have been difficult. Thomas was released after three years and eventually became one of Henry VII's indispensable and most trusted advisors.
Thomas Howard had married Elizabeth Tilney in April 1472 and with her had ten children, among them Lady Elizabeth, who married Sir Thomas Boleyn and was the mother of Anne and George, and Lord Edmund Howard, the father of the Katherine Howard who would steal the heart of Henry VIII. Elizabeth Tilney died on 4th April 1497, and it is often said she was buried in the nun's choir of the Convent of the Minoresses outside Aldgate, London, not far from the Tower. This, however, is probably wrong: there are instances of her being confused with Elizabeth Talbot, the last Mowbray Duchess, who definitely was buried in the convent. This is the lady who appears on the left of the cover of The Mowbray Legacy facing Elizabeth Tilney. She spent her last years in the convent and found herself in such reduced circumstances that in her will she apologised for her meagre bequests and left what little she had to faithful old servants and to the poor in Hackney. Frequently Elizabeth Tilney is associated with this will, which cannot be, as she was never Duchess of Norfolk, and the will was made 9 years after her death.1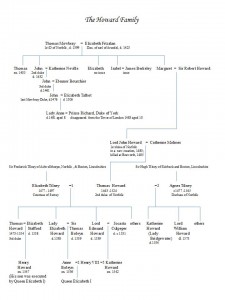 In 1497, only four months after the death of his first wife, Thomas Howard obtained a dispensation from the Church to marry her younger cousin Agnes Tilney, whose brother, Sir Philip, was in his service. The wedding took place three months after that in the chapel of the great castle at Sheriff Hutton near York, where he was stationed as the King's Lieutenant in the North. With Agnes, who was younger than his eldest son and heir,2 the Earl had several more children including Lord William Howard and yet another Katherine Howard, who, at her own second marriage, became Countess of Bridgewater. Sir Philip's widow Malyn Tilney, Lord William Howard and the Countess of Bridgewater were incarcerated in the Tower in 1541 for having concealed information about Queen Katherine Howard's behaviour before her marriage with young men at her step-grandmother Duchess Agnes's home, Norfolk House in Lambeth. The old lady herself was also locked away in the Tower.
Elizabeth Boleyn was laid to rest in the Howard Chapel in Lambeth, opposite Norfolk House, in close proximity to the magnificent tomb of her stepmother, Agnes. Neither tomb has survived.
See more at www.queens-haven.co.uk
Notes
The confusion over the identity of the two Elizabeths and the erroneous attribution of the gift to the poor of Hackney stems from Testamenta Vetusta: Being Illustrations from Wills, of Manners, Customs, &c. as Well as of the Descents and Possessions of Many Distinguished Families. From the Reign of Henry the Second to the Accession of Queen Elizabeth, Volume 2; Sir Nicholas Harris Nicolas, 1826.
This is a good illustration of incorrect information being assimilated into the fund of supposed correct knowledge and being passed on for decades without further checking – exactly the kind of thing recently discussed on this site.
Complete Peerage (CP) Vol. IX p.615, fn.b. Thomas was granted the dispensation in August and in November married his late wife's cousin Agnes Tilney, born in or before 1477; IX p.615 fn.d says he fathered 6 children with Agnes and 10 with Elizabeth, but Catharine Davies, in the Oxford Dictionary of National Biography, Oxford University Press, Sept 2004, says there were 13 children to this second marriage, but other sources say eight is a more likely number.
His son and heir, by Elizabeth Tilney, was Thomas Howard, third Duke of Norfolk who was instrumental in the convictions of his sister's children Anne and George Boleyn, and Katherine Howard, daughter of his brother Lord Edmund.