This weekend's Elizabeth I events!
Posted By Claire on July 22, 2022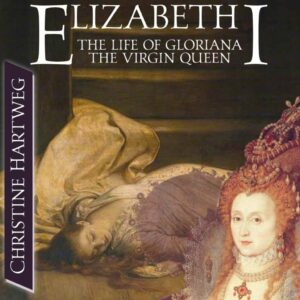 My 10-day online event "Elizabeth I: The Life of Gloriana, the Virgin Queen" doesn't officially start until 7th September, but we've been having weekly zoom calls to discuss the Starz series "Becoming Elizabeth" AND we've already had a historian talk go live on the website.
Not only that, but we have a Q&A session tomorrow!
Here are the details…
The Scandalous Death of Amy Robsart, wife of Robert Dudley – Talk by Christine Hartweg and live Q&A session
I interviewed Christine Hartweg, author of the excellent "Amy Robsart: A Life and Its End" about the death of Robert Dudley's wife, Amy (née Robsart) in September 1560. Her death caused a scandal with rumours that she'd been murdered, and it still causes controversy today. Christine and I had a wonderful time talking about Amy's background, how she came to be married to Robert Dudley, their marriage and his close relationship to Elizabeth I, and Amy's death in September 1560.
You can catch the video interview on the event website now and tomorrow, Saturday 23rd July at 8pm UK/ 3pm New York, we're having a one-hour live Q&A session with Christine on Amy.
Zoom call discussion on Episode 6 of Becoming Elizabeth
Later today, we have our weekly one-hour zoom call discussion on "Becoming Elizabeth". They're always interesting, educational and fun. I look forward to them every week. We share our views on the series, talk about the real history behind the events, pose questions to each other, and just enjoy talking Tudor.
To join us, simply register for "Elizabeth I: The Life of Gloriana, the Virgin Queen". It's open internationally and is completely online.
In September, we have ten days of talks and Q&A sessions with me, Dr Tracy Borman, Dr Linda Porter, Dr Elizabeth Norton, Dr Estelle Paranque, Dr Owen Emmerson, and Dr Elizabeth Goldring, all on the iconic Queen Elizabeth I. You can check out the schedule and what you get at https://claireridgway.com/events/elizabeth-i-the-life-of-gloriana-the-virgin-queen-online-event-7-16-september-2022/