Posted By Claire on March 1, 2010
Those of you in the USA are counting down to the 11th April when the final series of "The Tudors" is due to premier but what about viewers in the UK and other countries?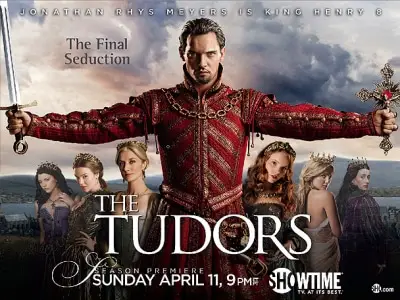 Well, after an article in The TV Times raised some hopes by suggesting that the BBC would be airing Season 4 in the Spring, I contacted the BBC to ask if they had scheduled a starting date for it. My hopes were dashed when I received an email this morning saying that they have no details of when it is likely to be aired. I suspect that they will include it in their Autumn schedules when they launch new programmes after the UK school summer holidays – so, end of August/early September is my guess. As for other countries, I just don't know.
What do you all think of The Tudors Season 4 promo poster? We've been discussing it on The Anne Boleyn Files Facebook fan page and we think it's funny that Jane Seymour is half naked and just look at Anne of Cleves's cheeky look!
P.S. Happy St David's Day to all our Welsh visitors and those with Welsh blood. Are you wearing your daffodil or leek? My Mum is.