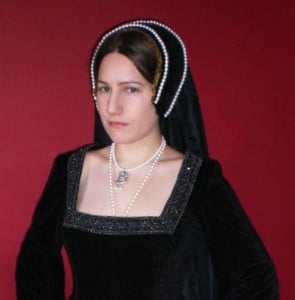 I love receiving photos from Anne Boleyn Files visitors and seeing the wonderful costumes you guys have put together. I just had to share this photo from Beth who has put together our Custom Double Strand B Necklace and Anne Boleyn French Hood together with a dress to get the Anne Boleyn look – doesn't she look just like how you imagine Anne Boleyn to look? Fantastic work, Beth! You look beautiful!
Also, just to let you know that Kris is working on the Execution Dress so that we can launch that dress next and she is also planning an Anne Boleyn portrait dress and a dress from "The Other Boleyn Girl", as well as the other ones from "The Tudors"! Phew, she's a busy lady!
Kris was really pleased that you all liked the Pembroke Dress, so thanks for your comments and I'll be sure to get photos of me wearing it at Hever Castle in May – so excited!
Also, one of our many talented Anne Boleyn Files visitors, Angelina, has written a wonderful Anne Boleyn poem – isn't it great that Anne Boleyn inspires us so much? Click here to read Angelina's poem.