Posted By Claire on February 24, 2010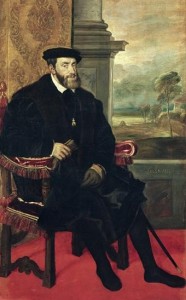 Happy 510th Birthday, Charlie! Yes, on this day in history, 24th February 1500, Charles V Holy Roman Emperor was born in the Flemish city of Ghent. To commemorate the birth of this famous Tudor character, I've compiled the following factfile:-
Birth: 24th February 1500 in Ghent
Parents: Philip I of Castile (Philip the Handsome) and Queen Joanna of Castile (Juana la Loca or Joanna the Mad). He was the heir of all three of Europe's major dynasties: the Trastamara of the Crowns of Aragon and Castile, the Valois of the Duchy of Burgundy and the Habsburgs of the Archduchy of Austria.
Relations: Charles V's maternal grandparents were Ferdinand II of Aragon and Isabella I of Castile, making him the nephew of Catherine of Aragon, Henry VIII's first wife. His paternal grandparents were Emperor Maximilian I and Mary of Burgundy.
Also known as: Charles I of Spain (Carlos I), Carlos V, Karel V, Charles Quint.
Titles: King of Spain (Charles I) from 1516-1556, Holy Roman Emperor (Charles V) 1519-1556 and Archduke of Austria 1519-1521. He is known as the first King of Spain because he was the first monarch to reign over both Castile and Aragon.
Motto: Plus Ultra, Further Beyond.
Upbringing: He was raised by his aunt, Margaret of Austria, the Regent of the Netherlands, and learned to speak 5 languages: French, Dutch, Spanish, German and Italian, although French was his mother tongue. His spiritual guide and teacher was Adrian of Utrecht who became Pope Adrian VI.
Marriage: 10th March 1526 in Seville, Spain – Charles married Isabella of Portugal, his first cousin and the daughter of Manuel I of Portugal and Maria of Aragon.
Children: The couple's surviving children were Philip II of Spain (1527-1598) who married Mary I, Maria of Spain (1528-1603) who married Maximilian II Holy Roman Emperor, and Joan of Spain (1535-1573) who married Infante John of Portugal. Charles also had two illegitimate children by two different mistresses: John of Austria and Margaret of Parma.
Abdication: In 1555 and 1556 Charles abdicated from his various positions and gave his Spanish empire and claims to the Netherlands to his son, Philip II of Spain, and his imperial lands to his brother Ferdinand. He then moved to his final refuge, the monastery of Yuste in Extremadura, Spain.
Death: 21st September 1558 from malaria at the monastery of Yuste. He had previously been suffering from attacks of gout.
Buried: He was buried at the monastery church, but later moved to the Royal Pantheon of El Escorial, the Royal Palace at San Lorenzo de El Escorial near Madrid.
Appearance: Charles V had the famous "Habsburg jaw", an enlarged lower jaw.
Charles V Quotes: "I speak Spanish to God, Italian to women, French to men and German to my horse", "I came, I saw, God conquered", " My cousin Francis and I are in perfect accord – he wants Milan and so do I", "Iron hand in a velvet glove", "How absurd to try to make two men think alike on matters of religion, when I cannot make two timepieces agree!" and "Paris is not a city, but a universe".
You can find out more about Charles V and his 4 million square km empire at http://en.wikipedia.org/wiki/Charles_V,_Holy_Roman_Emperor and http://www.britannica.com/EBchecked/topic/107009/Charles-V.