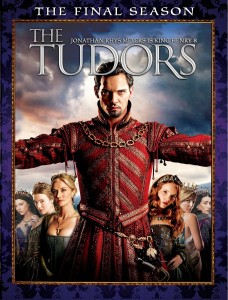 Many of you have been emailing me in frustration about the fact that "The Tudors" Series 4 is not part of the BBC's Autumn line-up, asking me if I know when it will be aired in the UK. I share your frustration! It is crazy that it was on in the USA in the Spring and that it comes out on DVD there next month and yet, in the country that Henry VIII ruled over, the land of the Tudors, we are left twiddling our thumbs!
I emailed the BBC a few months ago and they had no idea when they would be airing it and I emailed the BBC again today and got the following reply:-
Dear Claire
Many thanks for getting in touch.
I know it must be very frustrating for the viewers and fans of the
Tudors, however I'm afraid a decision as to the transmission date of
series 4 of the Tudors has yet to be made.
Kind regards
Front Desk Publicity, BBC
Grrrr! Perhaps we all need to complain to the BBC so they know how many people want this series aired. To complain to the BBC, you can go to http://www.bbc.co.uk/complaints/homepage/
The Tudors Season 4 DVD
You lucky, lucky people in the US can also get your hands on the DVD of The Tudors Season 4 very soon! The Tudors: The Final Season is due for release on 12th October 2010 and can be pre-ordered from Amazon – click here for details. If you're not in the US but have a multi-region DVD player then ordering the DVD from the States may be the way to go to get your The Tudors fix.